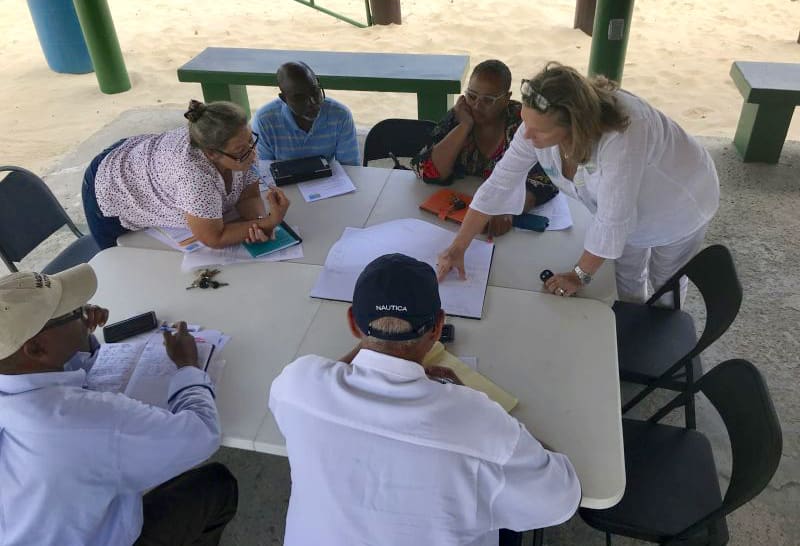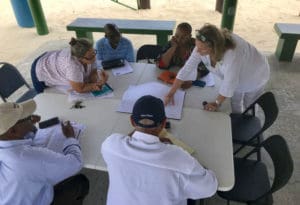 In a sign that Magens Bay is rebounding after September's storms and February's pounding surf, the Magens Bay Authority reviewed plans for upcoming events at the beach, a new area for storing concession rental equipment, and efforts to recoup money spent restoring facilities at the popular tourist spot.
At an authority board meeting Friday, members said three events are on the docket in the upcoming months – two definite, and one still in the planning stages:
– On Saturday, April 14, Rotary Sunrise's Kids Triathlon will return for another year, and volunteer Shaun Pennington said during the meeting that despite talk early on about scaling back the event, organizers are looking to keep all three components – swimming, biking and running.
– All Saints Cathedral School's annual Slider Showdown is slated to take place on the beach Saturday, May 19. Authority Executive Director Hubert Brumant said patrons will still have to pay the entrance fee at the gate before attending.
– Much time was spent discussing a proposal for a third event – a beach Poker Run – and decided to ask organizers to do a follow-up presentation before a final decision could be made. Concerns from board members included how close to shore boats can dock and how much alcohol would be consumed by participants while on shore.
Board members also reviewed a proposal from Magens Bay Concessions for a shed to house rental equipment, including beach chairs and umbrellas. While the concept for the facility was approved by the board, members said Planning and Natural Resources, through the Coastal Zone Management Committee, would have to approve any final permit and complete an assessment of its environmental impacts.
Board member Dale Barry said his concern lay with the building of a concrete retaining wall, but others said that in the wake of devastation caused by recent high surf and last year's hurricanes, putting up a strong protective structure could be a good idea.
The board also focused on facilities management, as members were updated on the status of claims filed with the Federal Emergency Management Agency to reimburse money spent by the authority on beach restoration.
FEMA representative Mark Neil said during the meeting that he has already started on several claims, including one for the removal of debris, another for emergency protection measures and others for the rebuilding of the bathhouses. Neil said Category A and B claims, such as those for debris removal and emergency protection measures, are entitled for 100 percent reimbursement from FEMA, while others are reimbursed up to 75 percent.
While Brumant said he has continued to work with Neil on submitting the necessary paperwork, board members were concerned about the process by which the money from FEMA would be distributed. Neil said that once the claims are approved and processed stateside, money would be released to the local counterpart – in this case, the V.I. Emergency Management Agency – for distribution.
Following up with VITEMA to make sure Magens gets the money was high on board members' priority list.
Wrapping up the meeting, Brumant explained that he has been working on recruiting replacements for two lifeguards who have recently relocated. While the authority taps into a pool of University of the Virgin Islands students who can be available to work for the next three years, Brumant said working around their schedule keeps him from hiring anyone full time.
Board member Barbara Petersen suggested advertising globally could attract more trained recruits to the Caribbean, and Brumant said that job postings on the Magens Bay website have netted responses from many experienced lifeguards in the states, including California and Alaska. While board members said bringing lifeguards to the island requires a comparable salary and benefits, Brumant said he could focus on those who are interested in only coming during peak season.