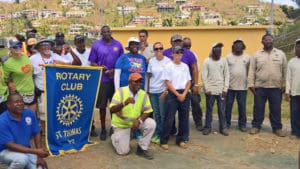 Four civic groups brought together dozens of concerned residents and sent them into Smith Bay to battle blight.
Some of the volunteers involved in the cleanup Saturday said they were pleased to see a collaboration of residents, private sector and government working together with a goal in mind.
About seven hours after people and equipment started moving into place, several truckloads of trash, debris and vegetation had been removed from beaches, parks and roadsides.
One of the team leaders was Tim Hall, president of Rotary Club of St. Thomas, East. He said he was satisfied with the results produced with the help of Rotary East, Margaritaville Vacation Resort, the Smith Bay Neighborhood Association, high schoolers enrolled in the Junior Reserve Officers Training Corps and a group called Perfect Heart.
"It was probably one of the biggest Smith Bay cleanups we have ever had," Hall said. He offered thanks to the 50 to 100 people who put in the work between 8:30 a.m. and 2 p.m. on a Saturday.
There was also thanks from the Rotary president to Sports, Parks and Recreation Assistant Commissioner Calvert White and Boschulte Landscaping, contractors serving Margaritaville.
Smith Bay Association's Roy Chesterfield won praise for his ability to mobilize area residents.
Government workers and landscapers cleared away large trees downed by Hurricanes Irma and Maria. Volunteers gathered vegetation and other storm debris for removal.
Recyclables were turned over to a local waste management company. At the end of five and a half hours, the roadsides leading to Coki Point, the beach at Margaritaville, the Smith Bay Ballpark and Tiny Tots Playground had a new look.
Jodi Olsen from Perfect Hearts said she tries to conduct a cleanup once a month. The work moves along so well when others are involved, she said.
"It's really great when we co-partner with other organizations," she said.
Olsen said she is already looking ahead to next month's cleanup around Red Hook Pond and its surrounding mangroves. That activity is planned in conjunction with the University of the Virgin Islands on April 21.