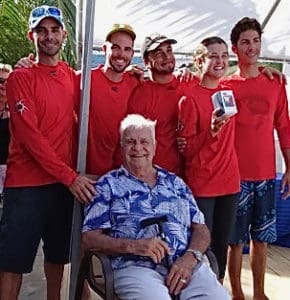 The 25th annual St. Croix International Regatta, previously set for November, will open Friday with "Captain Nick's Race," a salute to Captain Nick Castruccio – known as "Tail Hook Nick" – the founder of the regatta in 1992.
Then sponsored by Mumm Champagne, the Mumm's Cup attracted sailors from all over the Caribbean.
"I'm excited the regatta has been moved away from hurricane season and back into our racing season. It may draw more boats in coming years," said Karen Stanton, commodore of the St. Croix Yacht Club.
The St. Croix Yacht Club hosts the regatta and will kick off events at 6 p.m. Thursday with a free rum party for sailors, landlubbers, old salts, and visitors.
Official regatta racing starts Saturday and continues through Sunday afternoon. Awards follow.
Sailors from across the USVI, the BVI, and Puerto Rico will test their skills, many as repeat contenders. Big boats compete in the Buck Island Channel while the smaller, one-design Optimists, race inside Teague Bay.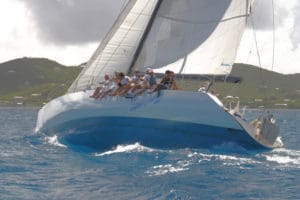 As per tradition, winning skippers of spinnaker, non-spinnaker and Rhodes 19 classes take home their weight in Cruzan Rum. They sit cross legged on one side of the huge scales as cases of rum are stacked on the other. Top Optimists win their weight in Gatorade.
Stanton expects tight competition in the Rhodes 19 class.
"It's the biggest one design we have, and many of our older and more experienced sailors will race them," Stanton said.
The commodore's son, Chris Stanton, a skilled sailor who won his weight in rum two years ago, will race Rhode Devil.
Chris Schreiber returns to St. Croix to race his old Rhodes, Chrys. He brings his wife Debbie and son Christopher, both accomplished racers, as crew. Now living in midcoast Maine, Schreiber is a former SCYC fleet captain and sailing coach at Good Hope Country Day School. Debbie coached youth sailing at SCYC.
In the 29ers class, the St. Croix International Regatta qualifies one team of two women and another of two men for the Youth Sailing World Championships in Corpus Christi in July.
Floridian 29er coach Chris Williford gave a clinic Tuesday, Wednesday, and Thursday to help young Crucian sailors hone their skills.
Each evening after the races, SCYC throws a party with live music, dancing on the beach and buffets. The public is invited.
Entertainment lineup:
Thursday, March 8 – Free Rum Party, 6-8 p.m., with music by Adrian Rogers until 9 p.m.
Friday, March 9 – Salsa by Romanza on the Heineken Barge, 5-9:30 p.m.
Saturday, March 10 – Kurt Schindler on the Heineken Barge, 5-9:30 p.m.
Sunday, March 11 – Calypso by Llewellyn, 12-3 p.m.