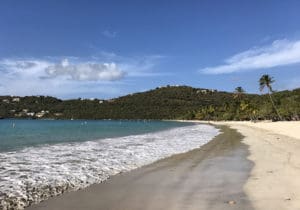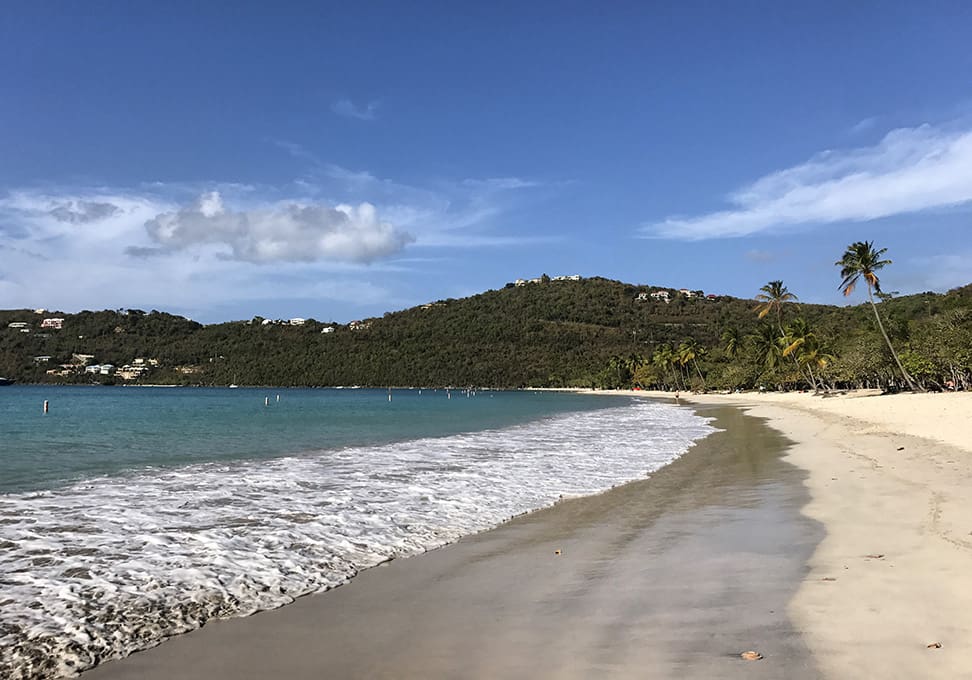 The water quality at Virgin Islands beaches has stabilized following months of heightened warnings about possible pollutants resulting from the September hurricanes and their aftermath. Yet residents may still notice an uptick in beach advisories from previous years.
The increased advisories don't mean that the waters close to shore have deteriorated; rather, they mean that the people who monitor the water have raised their standards.
That's the word from the Department of Planning and Natural Resources, which is tasked with testing the waters to establish whether they comply with the federal Clean Water Act as administered by the U.S. Environmental Protection Agency.
Each week staff take water samples at 33 of the territory's most popular beaches – and a few more at the height of tourist season. They have the samples tested by a private laboratory. What they are checking on is the number of Enterococci bacteria that is in each sample.
Those amounts can vary. A single severe instance of run-off, for instance, can cause a spike in bacteria that is only temporary.
The bacteria live in human intestines and a certain amount of it is expected in most any human environment. Exposure to excessive amounts may even go unnoticed by some people, but in others it can cause a variety of illnesses, such as urinary tract infections or wound infections, according to WebMD.
Until recently, DPNR considered a count of 104 Enterococci bacteria per 100 milliliters safe for recreational beaches. If a beach exceeded that amount, it made the department's advisory list, which is published each week. Now the threshold for acceptability is 70.
Benjamin Keularts, who has managed DPNR's beach water-monitoring program since 2015, and Jamal Nielsen, the department's spokesman, stressed that the change does not mean that the old threshold was not protective of health. The revised standard is "a better precautionary tool to provide an early alert to beachgoers, including families with children or elderly," according to the DPNR press release.
The EPA came up with the 70-count recommendation in 2012.
States and territories are allowed to establish their own criteria, as long as the EPA is satisfied they are in compliance with the Clean Water Act. The EPA lists three ways a local government can comply:
– Adopt the EPA recommended criteria,
– Adopt unique criteria to reflect site specific conditions, or
– Use other scientifically-defensible methods to develop their own criteria.
Keularts said the Virgin Islands updates its standards every three years, and it had just made a determination when EPA announced the 70-per recommendation. The re-evaluation process takes about 16 months, so there was no decision to accept that recommendation until 2016. When the hurricanes hit, they further delayed the announcement of the new standard.
Conditions do vary around the country, Keularts said, so each area does need to assess whether to accept the EPA recommendation or develop its own. One factor to consider is how quickly a bay cleans itself.
Typically, when water at a given beach does not meet the standard, staff will test it a second time a day or two later, to see if nature has rectified the problem.
As an example, Keularts said New Jersey did not accept the 70-per standard because its second-day samples came back as acceptable more than 90 percent of the time, thus indicating that the water quality was generally good.
Looking back at the history for V.I. second-day samples, Keularts said they met – or bettered – the old threshold about 84 percent of the time. That's pretty good, but not good enough to ignore the new EPA recommendation.
Again, from studying the historical data, Keularts estimated the territory may see about a 50 percent increase in the number of beach water quality advisories each week.
An advisory is just that. DPNR does not close beaches, although depending on the severity of the warning, another government agency might.
He did not say which beaches he thinks are most at risk. However, in 2016, at the Source's request, he did provide a list of the areas that had most often been on DPNR advisory lists in the previous four years. They were Ha'penny, Chenay Bay and Princess (Condo Row) on St. Croix, and Coki Point, Water Bay, and Lindquist on St. Thomas. Testing on St. John showed all the beaches consistently tested as clean.
Things may or may not have changed because of the storms or other factors, including development run-off or changes in shore vegetation.
For the last two months monitoring has proven beaches are "pretty clean" and shoreline water is mostly back to normal, Keularts said.