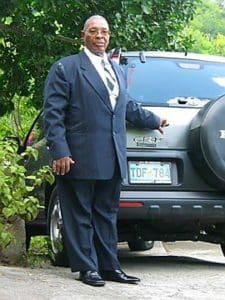 Charles William Dorsett died on Feb. 1 in Boston, Mass., at the age of 87.
A first viewing will take place from 5-7 p.m., Thursday March 1, at Turnbull's Funeral Home. A second viewing will be held at 9 a.m. followed by a funeral service at 10 a.m., Friday, March 2, at Christ Church Methodist. Interment will be at Eastern Cemetery, Smith Bay.
He is preceded in death by his wife, Venetta D Dorsett.
He is survived by his sister-in-law, Gwendolyn Lindo of England; his special companion, Delita Slack; daughters: Hazel Wilson and Charmaine A.D. Grant; sons: Floyd, Trevor and Eurick Dorsett; sons-in-law: Kelvin Wilson and Valentine Grant; daughters-in-law: Gail Dorsett and Donna Thompson Dorsett; granddaughters: Dacinth Dorsett, Jessa Dorsett, Miriam Dorsett, Kelsey Dorrsett, Dericka Joseph and Aaliyah Dorsett; and grandsons: Micah, Michael, Rashan, Zachariah, Derrick, Mosiah, Terence Brooks, Keeshun, Valentine D. Grant II, Vedall D. Grant, Sean Hughes, Eurick Dorsett II and Jonas Dorsett.
He is also survived by many great-grandchildren too numerous to mention; nieces: Annmarie Griffith Corsey, Helen Griffith Charles, Donna Griffith, Mary Benjamin, Verna Lewis, Carol Hugh, Denise Jackson; nephews: David Griffith, Wendell Griffith, Kerwin Griffith, Peter Panti, Rudolph Price, Tony Price, Irvine Sylvest; and many other nieces and nephews too numerous to mention.
Arrangements are entrusted to Turnbull's Funeral Home and Crematory Services.