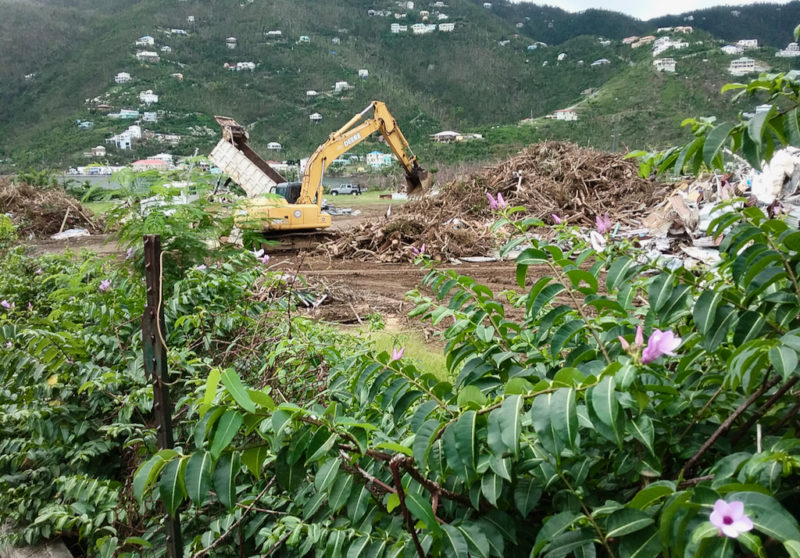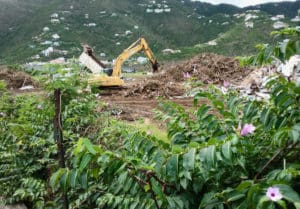 The head of the 32nd Legislature Committee on Housing, Public Works, Waste Management and Planning said he will address slow government payments to hurricane waste haulers at an upcoming hearing.
Committee Chairman Marvin Blyden was one of several lawmakers denouncing emergency managers who are being blamed.
A knowledgeable source at Public Works said the problem has affected local contractors working since the passage of Hurricanes Irma and Maria in the St. Thomas-St. John District. The concerns of elected leaders were detailed in a recent statement released by the office of Senate Majority Leader Neville James.
James, a St. Croix lawmaker and former Senate president, said his office has received "multiple inquiries" from vendors working to remove storm debris from public roadways.
"It should not be this difficult for contractors to get paid when they are providing a necessary service to a community," James said.
When asked how many haulers found themselves in this situation, Public Works spokeswoman Kinila Callendar says there are 17 haulers contracted to remove debris on St. Croix.
"The Department of Public Works works with the Army Corps of Engineers. The Army Corps of Engineers hired a contractor who is working on storm debris. That's in the St. Thomas-St. John district. On St. Croix we have a number of vendors who are working on storm debris," Calendar said.
That's in addition to the regular roster of waste haulers working with the Waste Management Authority, said Cheraine Spivey, Blyden's chief of staff. Spivey said local contractors hired to remove hurricane debris report to Public Works. Some of those vendors, she said, were paid prior to Irma and Maria. Some of those still awaiting payment have been on the job since Sept. 7 and 21, respectively.
"The payments need to be made. They're working on getting some payments. There was a snafu. Finance is working on getting some of the payments out," Spivey said.
She added that Blyden believes getting those payments into waste haulers' hands will be a major expression of good faith.
"We need the vendors and the senator appreciates the vendors continuing to put the territory first," she said.
The Housing and Public Works committee chairman has been keeping abreast of progress on the matter. Delayed payments to vendors on the job as part of the emergency response is expected to come up at the next committee hearing, set for Feb. 7.
According to WMA Board Chairman Harith Wickrema, Blyden was one of several government officials taking part in a conference call over the Martin Luther King Day holiday.
Finance Commissioner Valdimier Collens and WMA staff members also joined Blyden, Wickrema and Spivey at that Monday teleconference.
One WMA official, who asked not to be named, said payments to vendors under contract with ACE are subject to an additional layer of oversight from the federal government before funds can be released.
Acting Public Works Commissioner Nelson Petty, Jr. is also keeping abreast of the situation, according to Government House spokesman Sam Carrion.