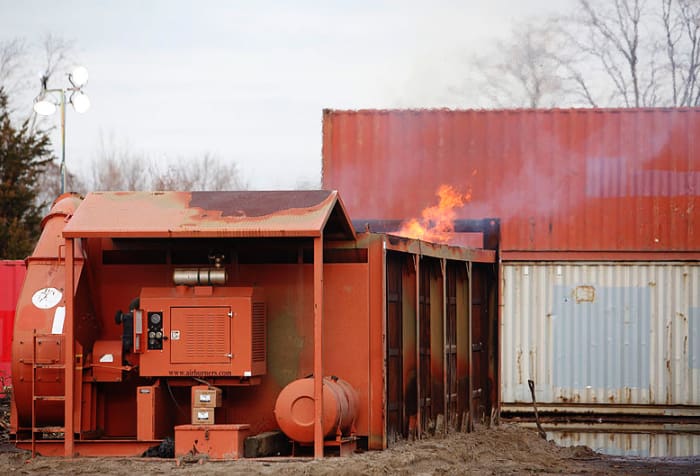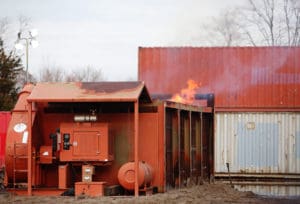 The Department of Planning and Natural Resource on Friday confirmed that a series of permits issued in the week before Christmas pave the way for hurricane debris to be burned on St. Croix, despite opposition from the Legislature.
DPNR Commissioner Dawn L. Henry confirmed the following permits relative to the Air Curtain Incineration operation at Estate Body Slob, St. Croix were issued:
On Dec. 19
– Earth Change Permit No. STX-18-228 – to the Department of Property and Procurement for land clearing and excavation of 12 incineration pits measuring 30 feet by 15 feet by 10.
Air Pollution Control Program permit to construct to the U.S. Army Corps of Engineering to construct 12 air curtain incineration pits.
Dec. 21
– Air Pollution Control Program permit to operate to the U.S. Army Corps of Engineering to operate the 12 air curtain incineration pits.
Also, on Dec. 8 the department issued a notice of intent for storm water discharge to the VI Waste Management Authority. VIWMA requested to clear 40 acres of land. Any land clearing more than 1 acre requires this permit to control the discharge of storm water leaving the site.
No applications for permits were filed for air incineration operations in the St. Thomas/St. John District, the DPNR reported.
After Hurricanes Irma and Maria blasted the islands in September, they left behind an estimated 700,000 cubic yards of vegetative waste. The Joint Debris Task Force, made up of federal and local officials, put forth a plan to chip and compost the majority of trees and branches felled during the storm, preserving valuable hardwoods such as mahogany, and allowing burning of as much as 35 percent of the debris. The burning would be conducted by the Army Corp of Engineers in "air curtain incinerators," which are said to burn the material thoroughly.
Three environmental groups, the Sierra Club, Island Green Living Association and the Virgin Island Conservation Society have notified FEMA and the U.S. Army Corps of Engineers that they will sue to prevent large-scale burning of the debris in the USVI. The groups claim the incinerators have no pollution controls and will release pollution directly into the atmosphere.
The V.I. Senate on Dec. 1 passed a measure banning the burning of the debris. Mapp vetoed that measure Dec. 14, saying the senators had now shown any alternative to burning,
"This is a herculean task and the Legislature has yet to offer a single viable plan on how we should effectively deal with this issue," Mapp said in his veto message.
The Federal Emergency Management Agency will pay for all debris removal and disposal until March 20. After that, the V.I. government will be responsible for the expense of all debris not disposed of.
"Without some incineration, we are unlikely to meet the deadline," Mapp said in his letter.
Senate President Myron Jackson (D-STT) has already said he plans to seek an override of the governor's veto.