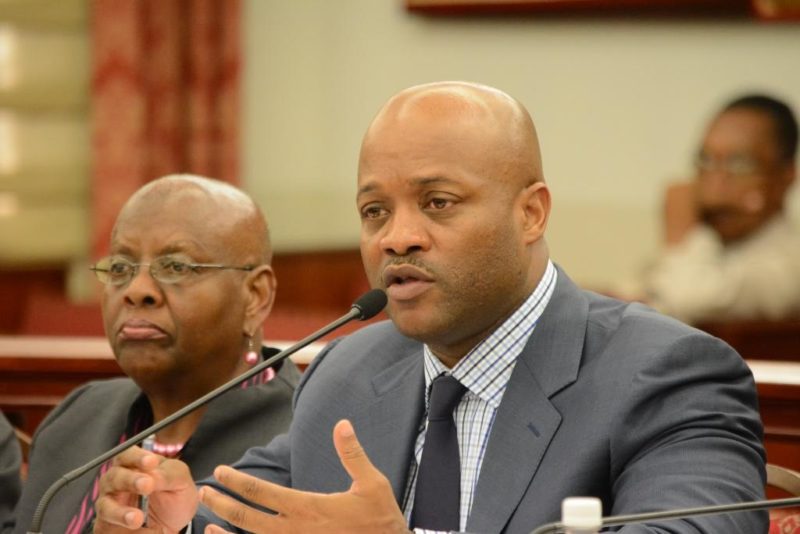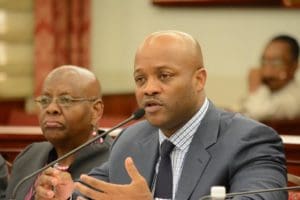 Along with billions in property damage, Hurricanes Irma and Maria have wiped out a peak tourism season, shrunk economic activity and greatly reduced tax collections to run the territory's schools and agencies, V.I. officials told senators Wednesday.
"Our current estimate of lost tax and other revenues to the government is $1.5 billion over the next three years," Finance Commissioner Valdamier Collens said. Collens and other administration officials were urging senators to pass Gov. Kenneth Mapp's request for authorization to borrow hundreds of millions of dollars through low-interest federal disaster assistance loans.
The territory was facing a severe long-term and immediate fiscal crisis before the storms hit, with annual deficits exceeding $100 million per year, reduced revenues since the closure of the Hovensa refinery, several credit downgrades and an inability to find buyers for more bond debt.
Collens said total hurricane-related damages will exceed $7.5 billion.
Internal Revenue Bureau Director Marvin Pickering said tax collections had dropped sharply. In September 2016, tax revenues to the government's General Fund came to $59.4 million, versus $36.3 million in September 2017, he said. And $18.5 million of that was a one-time payment from the U.S. Internal Revenue Service, so the real local revenues were about $18 million, Pickering said.
Without a cash infusion, it will become difficult to provide basic government services, officials said.
Congress recently approved a $36.5 billion supplemental appropriation for disaster relief across the country, in Puerto Rico and the U.S. Virgin Islands. It includes $4.9 billion for loans for operating expenses and loss of revenues specific to the U.S. Virgin Islands and Puerto Rico. Mapp recently announced the territory will seek at least $300 million in loans and called a special session of the Legislature to approve authorizing legislation for the loans, along with several other bills.
Collens said the government has worked out approval for an initial round of borrowing, including $250 million for the central government; $22 million for the Gov. Juan F. Luis Hospital; $24 million for the Schneider Regional Medical Center and $75 million for the Water and Power Authority.
The loan term is expected to be 20 years at less than 3 percent interest rate, Collens said.
"Quite frankly, an interest rate below 3 percent is very favorable," Collens said.
The Federal Emergency Management Agency and U.S. Treasury have decided for the first $171 million they will accept senior lien bonds secured by V.I. gross receipts taxes and for the remaining $125 million, senior lien matching fund bonds, secured by federal excise tax revenues on V.I. rum production.
There may be a hiccup in accessing the funds, because the federal government "has refused to accept a subordinate lien,"Collens said. But, he said, the government cannot legally grant a priority lien on the new debt, because it impacts the status of its existing debt, according to Collens. [Bill 32-0150]
The central government has about $2 billion in outstanding debt, roughly evenly split between bonds secured by gross receipts taxes and rum revenues. Borrowing the disaster funds and putting them on a a higher priority, to be paid first, could violate the terms of those older bonds.
Mapp's proposed legislation does not specify a particular amount to borrow, which concerned some senators.
Sen. Novelle Francis (D-STX) asked if it was meant to be a blanket, open-ended authorization to borrow.
Collens said the open nature of the authorization "would allow us to effectively optimize" their borrowing through FEMA to match what FEMA can offer to territorial needs.
"It is not as open-ended as you would think," because FEMA has its own constraints on what it will lend and how it can be spent, Collens said. The territory's debt limits and capacity to repay are "also considerations we will keep in mind," he said.
Sen. Jean Forde (D-STT) said all the senators agree on the need to borrow. But he said he is concerned about the open-ended authorization and suggested he may want the legislation to be sent to committee for more vetting.
Sen. Brian Smith (D-At Large) asked if there would be any money for the deeply underfunded Government Employee Retirement System. Collens said the money cannot be used to shore up the pension plan's unfunded liability but it would help the government pay its current employer contributions to the plan. The government has not been paying those contributions in full in recent months.
Sen. Tregenza Roach (I-STT) and others raised concerns over FEMA's unwillingness to take a subordinate lien.
"I was inclined to go forward … because I know we need the revenues at this time. But this is absolutely troubling me," Roach said.
No votes were taken at the information-gathering hearing. The bill is slated for a vote in full session Thursday.
When Mapp initially called for a special session, the agenda included bills affecting horse racing, funding for capital projects in Frederiksted and two Coastal Zone Management Permits. Senate President Myron Jackson (D-STT) said those measures were sent to committee for more testimony and debate.