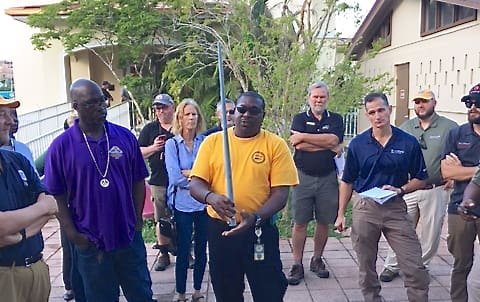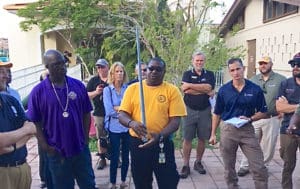 Three crews of linemen contracted to help restore electrical lines on St. John are making steady progress, according to Roger Grider, general foreman of BBC Electric.
Portions of the North Shore Road on St. John have been closed down since last week so that crews can work without interruptions, Grider said. One crew, headed by Grider, is planning to "heat up Cinnamon Bay today," he said.
Grider made his remarks at the Monday morning VITEMA briefing at the NPS headquarters. When he tried to apologize for the inconvenience of the road closings, someone called out, "Don't apologize!" and the crowd gave him a round of applause.
The power lines that go along the north shore of St. John are critical to the restoration of power to Coral Bay and the East End of St. John.
Grider said another crew, headed by Eric Kidoo, is working from Cruz Bay along Route 104 on the south shore of the island and along the Gifft Hill Road, areas where much of the population resides. They have restored electricity as far as the Westin Resort.
A third crew, headed by Daniel Best, is getting ready to start work in Coral Bay, bringing the total number of BBC Electric contractors to 105.
The Julius E. Sprauve School in Cruz Bay has been using WAPA power since last week and is now in a test period to make sure the system is reliable. The Gifft Hill School Lower Campus was energized Monday morning, according to board chairman Miles Stair. The St. John School of the Arts also is running on WAPA-supplied electricity.
WAPA Line Superintendent Richard Lanclos held up a model of the new composite poles that will be installed on the East End of St. John at the Monday morning VITEMA briefing.
Lanclos said the poles are made is sections that can be stacked to reach 100 feet in height, or more if necessary. WAPA has identified 220 poles that need to be replaced between the Myrah Keating Smith Community Health Clinic and locations beyond Coral Bay.
Crews are now being trained to install the new poles, and the equipment used to implement the installation was expected to arrive on island Tuesday.
Injured Lineman Recovering
A 24-year-old lineman, who suffered head injuries last Thursday when he was thrown from the back of a truck on St. John, has been released from the hospital, according to Randy Caruthers, the president of BBC.
Patrick Anderson was a released Saturday from a Fort Lauderdale hospital where he was treated for skull fractures, and was going home to Missouri.
"He was told to get plenty of bed rest and 'Don't get hit in the head again,'" Caruthers said.
Anderson is one of 105 linemen employed by BBC, the Missouri-based contractor that has been working on St. John with WAPA to restore downed power lines. He and two other men were sitting in the back of a pickup truck early Thursday morning when a St. John man jumped into the truck's cab and attempted to drive off. One other lineman was injured slightly.
Shared content for the Virgin Islands Source and St. John Tradewinds.