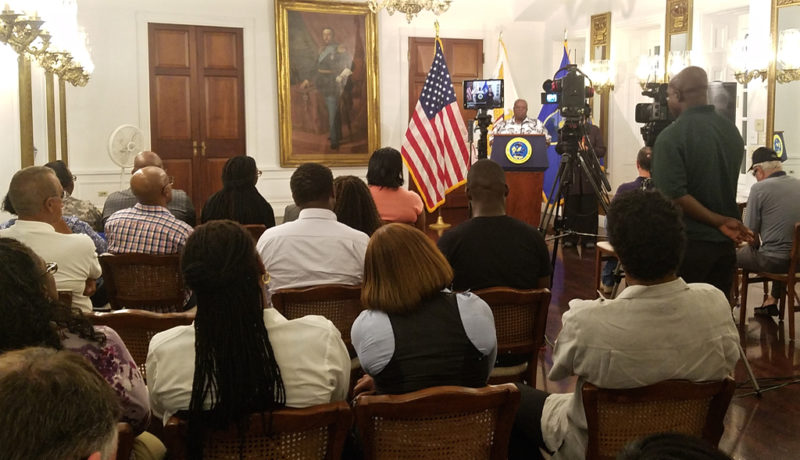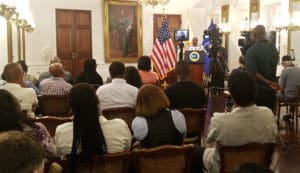 The U.S. Virgin Islands has received an extension to Nov. 23 for residents to apply for the Blue Roof program, Gov. Kenneth Mapp announced at a Friday news conference.
The original deadline was Nov. 3.
Mapp said that residents should apply even if their home has no frame, because denial by the Blue Roof Program opens other assistance options.
Individuals can apply for the Blue Roof program by calling 888-766-3258. Individuals also can apply at any Disaster Recovery Center and fill out an application.
DPNR also will announce the possibility of those with Blue Roofs obtaining power, "if you qualify and your home is safe, after an inspection is made," Mapp said.
Other topics discussed at Friday's news conference included:
– To help clean up the refuge in St. Thomas, the Waste Management Authority will lease bins and equipment and send it to that island. This will provide infrastructure support for the clean up effort, Mapp said. The government is also going to make an "assertive effort to clean up Old Tutu" which is in most need on St. Thomas.
– The government of the Virgin Islands is requesting the U.S. Congress waive its Medicaid match for up to three years, which will help free up money for hospital consruction. At a town hall meeting Thursday at the V.I. Cardiac Center, Juan F Luis Memorial Hospital board chairman Troy deChabert-Schuster said the new hospital building would probably house 150 patients beds. Mapp on Friday said he didn't want to mention any numbers because they may not be accurate and that the "right size fit for the territory" will be figured out.
– Addressing concerns that some government employees are only working four-hour workdays, Mapp said, "Come Monday morning at 8 a.m., you should be on your job."
Those government employees who are not working their full shifts will be put on unpaid leave.
– Mapp said new vehicles for transportation and the Meals on Wheels program for territorial seniors are ready and waiting in Florida to be shipped to the territory.
– Commissioner of Health Dr. Michelle Davis said people experiencing emotional distress as a result of the hurricanes can call the Disaster Distress hotline at 800-985-5990. This service is free and confidential to residents of the territory.
– Davis also announced the roll out of the Emergency Prescription Assistance Program, which will provide medicine and medical supplies for qualified individuals who are in need. Information can be obtained through participating pharmacies on all three islands.
– Mapp said that by early November the territory will receive another 200 linemen, bringing the total to more than 700 linemen in the territory. WAPA has reported that 21 percent of all individuals in the territory now have power.