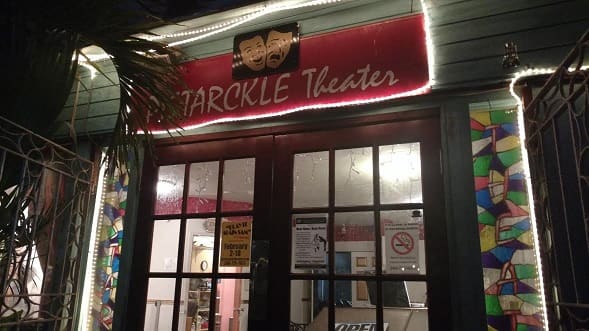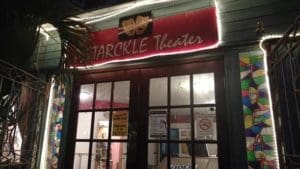 Resident Director Frank Bartolucci's says:
"Alternative Facts" by Matthew Hamilton-Kraft may be one of the most important plays Pistarckle has ever produced.
After suffering through Irma and Maria, the theater sustained enough damage to make the 2017/18 season a complete loss. We had to postpone "Evita" and weren't sure how to save the season. "Alternative Facts" has allowed us to do that.
We couldn't get set materials from MSI (a longtime sponsor and supporter of the theater) because they were inundated with supplying material for relief repair, so we had to cobble a set together from old flats and furnishings we had. We didn't know if we would have power, but Eric Tillett stepped in and ran the Gardens generator so we could rehearse and build the set, and run the Children's Hurricane Relief Project during the day.
We didn't know if we could get the word out about auditions with communication so sketchy on island, but Priscilla Lynn, our marketing director, was somehow able to. We didn't know if we could rehearse with the curfew hours, but were able to with the commitment of the cast.
So, the show will go on, and "Alternative Facts" is our first step in keeping the theater a viable and creative force on St. Thomas. It's a contemporary dark comedy that takes place right before the 2016 election and pulls its plot right from the headlines we see every day. Names have been changed to protect the not-so-innocent, and besides being a very funny show, it offers insight into what happened in the 2016 election and maybe why it happened.
As I said, it's the first step in keeping the doors open. Next up is our Children's Christmas Pageant, and if the Theater God's smile on us, we'll start the second half of our Season with "The Color Purple," as scheduled.
The show must go on and we're working to make sure it will.
Performances are: 1 p.m. and 4 p.m., Saturdays, Nov. 11 and Nov. 18; and at 2 p.m., Sundays, Nov. 12 and Nov. 19. All tickets are $20 per person, open seating/ first-come, first-serve. For tickets, call/text (203) 530-0103 or email marketing@pistarckletheater.com. Walk-ins accepted if space is available.
Submitted by Frank Bartolucci, resident director of the Pistarckle Theater, Tillett Gardens.