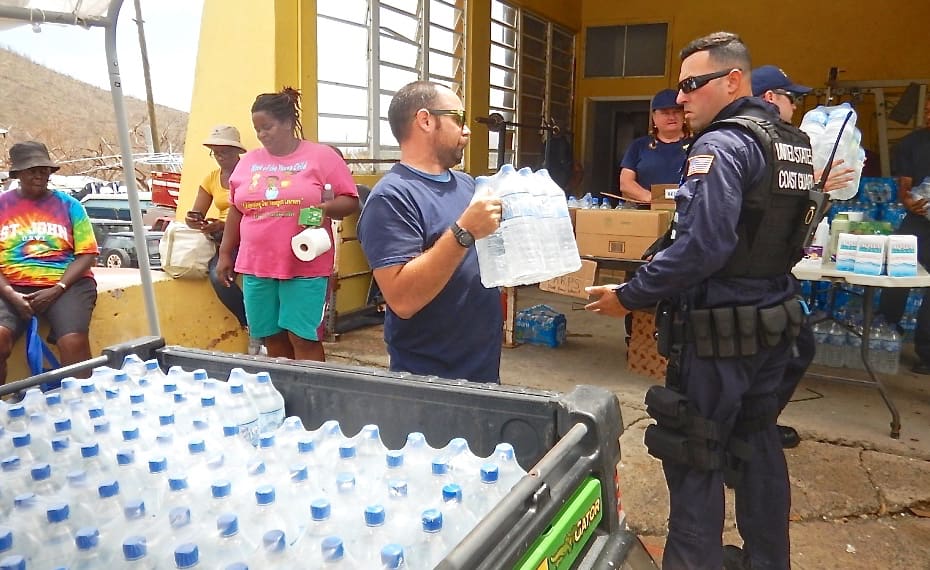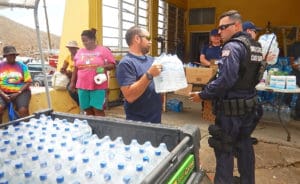 A St. Croix man, apparently crushed in a mudslide, has become the seventh fatality as a result of the two category 5 hurricanes to pummel the territory in the last two weeks, Gov. Kenneth Mapp said at a Sunday news conference.
Mapp also spoke angrily about looters on St. Croix and promised harsh penalties, especially for those who disrupted cell phone service for Virgin Islanders by stealing the AT&T generator. Agents from the Federal Bureau of Investigation have been brought in to assist with the investigation.
"This is not how Virgin Islanders behave. Caribbean people don't behave like this," Mapp said. " I wish you well in the federal penitentiary."
Police Commissioner Delroy Richards announced that two suspected looters are in custody as of Sunday and on their way to Golden Grove Adult Correctional Facility, as are a mother and two sons who allegedly burglarized Elena Christian Junior High School. The minor sons were remanded to the Youth Rehabilitation Center.
Richards said there has been "a lot of confrontation" between police officers and youth in Frederiksted in the last few days to eliminate theft and curfew violations.
"We're not stretched thin. We're going to continue to do what we're supposed to do," Richards said.
The governor said he hopes to relax the curfew for St. Croix residents, giving them four hours everyday to conduct their business, as soon as several obstacles have been removed from the main thoroughfares. He did not speculate when curfew would be eliminated.
Food and water will continue to be distributed on Monday at distribution centers on all three islands. However, due to the high number of recipients – around 8,000 – four meals and five liters of water, instead of cases of food and water, will be dispensed.
FEMA coordinator William Vogel said food and water distribution will continue, with 1.1 million meals still to be distributed. The federal organization continues to assess power needs throughout the territory and monitor that accurate information reaches the community, he said.
Vogel said military and emergency flights are landing and taking off at both V.I. airports throughout the day and night.
Mapp said Cyril King Airport on St. Thomas may open to commercial traffic Thursday or Friday, but he would not guess when the St. Croix airport might reopen. He also did not know when the territory's U.S. post offices will resume mail service.
Health Commissioner Michele Davis gave an update about people who were evacuated from the Gov. Juan Luis Hospital after it became compromised during Hurricane Maria. Twenty patients were sent to Atlanta, Georgia, Saturday and 12 to Shreveport, Louisiana, on Sunday. Forty dialysis patients will also be evacuated, but Davis didn't know when or where.
VIDOH and the Department of Planning and Natural Resources have ordered mosquito nets for adults and children and repellent for distribution to the public. Plans are underway to spray for mosquitoes.
Davis gave some cleaning and safety tips. She advised residents to remove mold with a mixture of one galleon water and one cup of bleach. Children's toys can be wiped with a solution of one cup of bleach and five galleons of water and left to air dry. She also warned about carbon monoxide poisoning by generators and gas grills used indoors.
On Monday, Mapp plans to meet with Julio Rhymer, executive director for the V.I. Water and Power Authority, for an update on returning power to thousands of islanders. About 125 linemen are expected to arrive soon to expedite the process. He added that much of Christiansted received electricity Saturday night and Frederiksted town might be energized Sunday night.
Supermarkets and gas stations on St. Croix were allowed to open from noon to 4 p.m. for the last two days and starting at noon on Monday, Banco Popular and First Bank – both in Orange Grove – also will open until 3 p.m. Mapp announced.
The governor said he and the Waste Management Authority will devise a plan by Wednesday for disposal of hurricane debris, such as galvanized aluminum, appliances and tree branches. Residents should only take household garbage and clothing to dump sites and leave debris on their property until further notice.
While Mapp couldn't say which government agencies are working with a full staff, he mentioned updates from the Department of Planning and Natural Resources as well as DOH, the V.I. National Guard, VIPD and the V.I. Territorial Emergency Management Agency.