The National Hurricane Center has declared Hurricane Irma a category 4 storm as of the 5 p.m. Monday update. Hurricane watches have been declared for the U.S. Virgin Islands and British Virgin Islands, along with Puerto Rico and Guadeloupe.
A hurricane watch is an announcement that hurricane conditions are possible within the specified area. They are typically issued 48 hours before the anticipated onset of the weather condition.
Hurricane Irma was about 700 miles east of Saint Thomas as of 5 p.m. Monday.
The NHC warned that Irma could directly affect the U.S. and British Virgin Islands and Puerto Rico as a dangerous major hurricane, accompanied by life-threatening wind, storm surge, and rainfall impacts.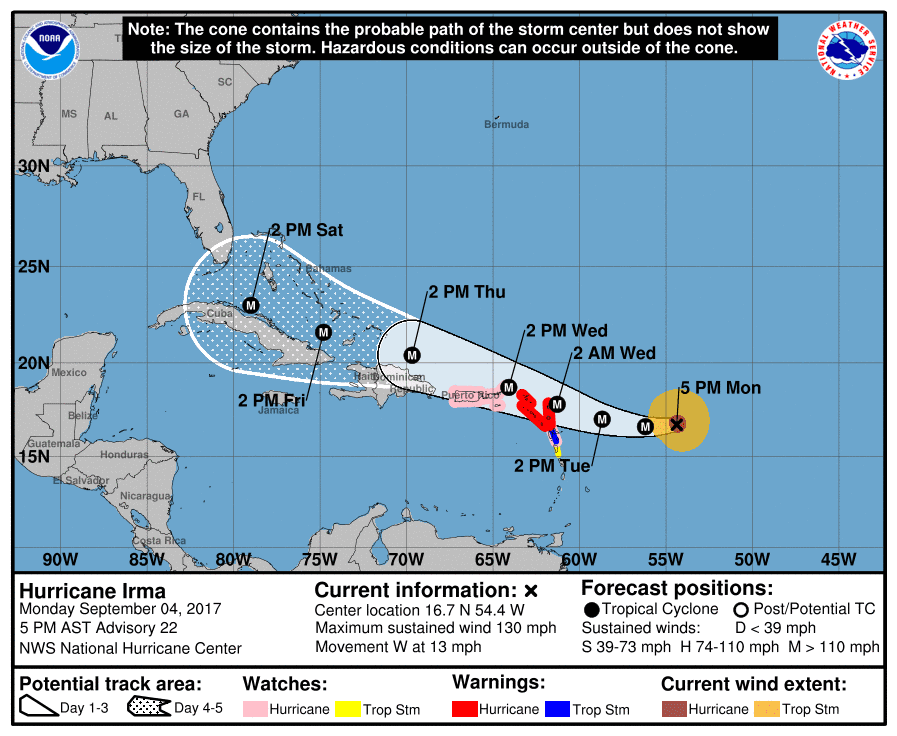 Tropical-storm-force winds could arrive in these areas by early Wednesday, the NHC said.
Irma remains an impressive hurricane in satellite imagery. The eye has become a little smaller and cloud filled this afternoon, perhaps the result of an ongoing eye wall replacement.
An Air Force Reserve reconnaissance aircraft making a double pass through the center of the storm measured flight-level wind of 121 knots (nautical miles per hour) kt in the northeast eye wall and surface winds 113 knots.
Based on these reports, the peak intensity has been increased to 115 knots, making Irma a category 4 hurricane.
The hurricane will move through an environment of low vertical wind shear, a moist mid-level atmosphere, and increasing upper-ocean heat content, conditions that favor intensification and the intensity guidance continues to call for some additional strengthening during the next couple of days.
Irma also could directly affect Hispaniola, the Turks and Caicos, the Bahamas, and Cuba as a dangerous major hurricane later this week. Residents in these areas should monitor the progress of Irma and listen to advice given by officials.
While forecasters at the NHC said it is still difficult to predict the track of the storm as it passes through the Caribbean, it now sees an increasing chance of Irma having some impacts in the Florida Peninsula and the Florida Keys later this week and this weekend.