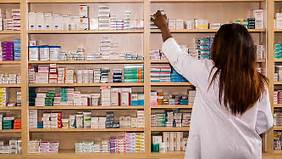 Over the last 48 hours we have learned that a tropical storm in the Atlantic has rapidly grown to a category 3 hurricane almost overnight on Thursday, this storm has the potential to hit the Virgin Islands and cause large amounts of destruction to the residents. Hurricane preparation should be at the forefront of everyone's minds at a time like this.
Doctors Choice Pharmacy recently was involved in helping bring donations to St. Thomas's sister island, Tortola, when they were hit by a flood in early August. After seeing all the damage done in Tortola by mother nature, Doctors Choice Pharmacy wanted to help the residence of St. Thomas prepare if the storm does make landfall on the island.
On Saturday morning, all Doctors Choice Pharmacy locations on St. Thomas have put out hurricane preparation guides and discounted some items that are recommended to keep on hand in case of an emergency. Doctors Choice also put up an online guide to preparing for a hurricane on their company Web site: www.doctorsChoicePharmacies.com
Doctors Choice Pharmacy encourages everyone on the island to stay safe and pray for the best but prepare for the worst.