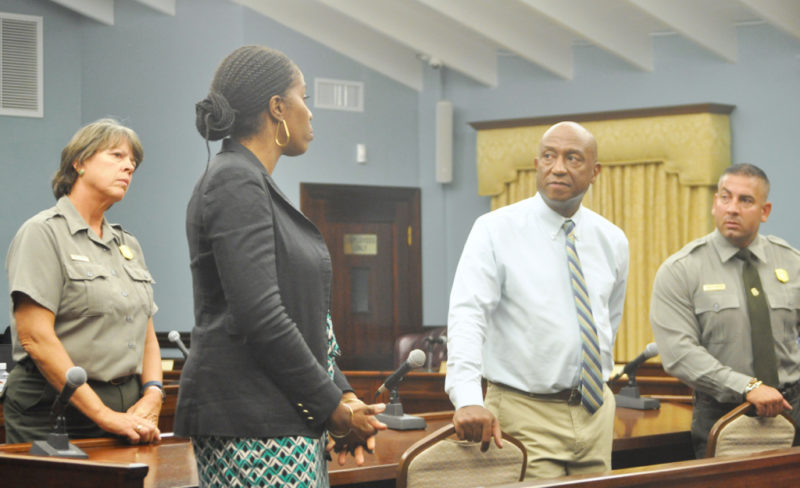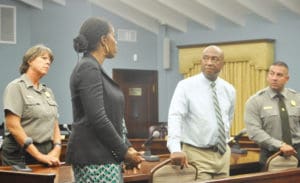 A packed room of St. John residents gathered Thursday, for the second time in two weeks, to address National Park management on a host of perennial issues, including land-boundary disputes, scarce local hiring, and what many see as insensitive interpretation and enforcement policies.
On July 20, the grass-roots organization V.I. Unity Day Group held a community meeting with park officials in response to word that the U.S. National Park Service's holdings in the Virgin Islands and Puerto Rico would be undergoing an administrative "re-alignment." (See Related Link: Virgin Islanders Blindsided By Shift in NPS Authority Structure.)
Among the purposes of July's meeting was to introduce St. John residents to the newly-appointed Caribbean Parks Superintendent Randy Lavasseur, who under the terms of the re-alignment is now the direct supervisor of superintendents on St. Croix and St. John. Lavasseur's office is based in San Juan, Puerto Rico.
Delegate to Congress Stacey Plaskett attempted to have that meeting postponed so that both she and NPS Southeast Regional Director Stan Austin would be able to attend. Instead St. John ended up with two meetings, the July 20 meeting and Thursday's, both held at the Cleone H. Creque Legislative Conference Room at St. John's legislature annex.
In her second term, Plaskett is the ranking Democrat on the House Subcommittee on the Interior, Energy and Environment, and has been vocal about the need for the NPS to be a better, more communicative partner with communities in the V.I.
Lavasseur, for his part, has pledged more community engagement in the three parks under his supervision, in St. Croix, St. John and Puerto Rico. But in the case of St. John especially, a dominant park presence – more than 70 percent the island is now owned by the NPS – and generations of contentious relations with the community, will likely make his task difficult. None of the dozen or so St. John residents who spoke at Thursday's meeting expressed a mainly positive account of their relationship with the park.
Plaskett and Lavasseur were joined in the legislative chamber's well by the Atlanta-based Austin, who has served as Southeast Regional director for four years, and Jayne Schaeffer, who continues to serve as St. John's resident park superintendent under the re-alignment. Schaeffer was deputy superintendent of the V.I. National Park until the retirement of former superintendent Brion Fitzgerald in January. Plaskett, Lavasseur, Austin, and Schaeffer all spent the meeting mostly listening.
Among the first topics brought up by community members was the potential donation of park land for a K-12 public school on St. John, discussions for which have been in the works for years but appear to have stalled. NPS leadership has said that the easiest and most effective way to pursue the public school project is for the V.I. Government and the park to "swap" land, since direct sale or gift of the land is not authorized under existing law.
The NPS has identified approximately 10 acres in Estate Catherineberg for the swap, but there has been disagreement about what land the local government should offer in exchange, or whether it should be required to. Plaskett said a legislative route to the V.I. government acquiring the land is likely to fail in the Republican-controlled U.S. Congress, and Gov. Kenneth Mapp has not expressed interest in the project.
Doctoral candidate Hadiya Sewer and frequent Senate candidate Wilma Marsh-Monsanto both said they felt it was important to resurrect the discussion about the park's role in providing land for a school.
"That trip to St. Thomas [for high school students] is actually an arduous one," said Sewer. "The time that we spend on the journey and waiting to catch the ferry is time that we don't have to do our homework, to study, to take up a part time job, to prepare for the SATs or any other type of career planning."
According to Joe Kessler, president of the Friends of the V.I. National Park, his organization supports a land swap and is willing to donate four acres of its privately-held land in Estate Sieben-Mollendahl to augment any land the local government can come up with.
"We made the offer. The offer is still standing," Kessler told the community and park brass. "It really rests with the governor's office, where it has rested for the past six years. That's really where the inaction has been."
Other issues raised by St. John residents Thursday appeared to more clearly rest directly with the park. Multiple attendees said they were tired of a lack of St. Johnians in top park positions on-island.
"This situation with employment has been going on since the [park's] inception – 1956," said Theodora Moorehead, owner of Mooie's bar and the daughter of Theovald Moorehead, a St. Johnian activist and politician who frequently challenged the park in its early days.
"If you want to hire locals, you will find a way to hire locals," she continued.
Moorehead also raised concerns about inflated property taxes due to the park's presence, harassment and even violence from overzealous enforcement rangers, and a Friends of the Park organization filled with non-or-part-time-residents with a "different agenda" than St. Johnians.
"One of the problems most people don't understand is we have an adversarial relationship with the park from the inception," Moorehead said. "You must understand our anxiety about this. We are peaceful people until we are pushed to the brink. Unfortunately power does not concede without some kind of revolution."
According to Schaeffer, hiring locally in National Parks isn't always so simple. She said the bureaucratic process of civil service hiring makes the process difficult, but that she has attempted to bring more Virgin Islanders into park employment through a program targeting veterans. The V.I. National Park currently has a total of 48 employees, significantly down from 72 in 2008. Seven vacant positions exist, which Schaeffer said will be advertised nationally as well as in local media.
"I've asked multiple times my regional office, can I get some local hiring authority here. The answer has been a resounding no," Schaeffer said.
Lavasseur's response to the same issue, however, seemed to contradict Schaeffer's.
"We do have that authority, and we're not taking advantage of that authority. It needs to start," he said. He added that, thanks to commitment from his predecessors in the San Juan park office, Puerto Rico's national park presence is made up of "99.9 percent Puerto Ricans."
Educator Carla Sewer and craftsman Delroy "Ital" Anthony were among those who said more local hires would help resolve some of the community's problems with national park historical interpretation, which many feel does not focus enough on indigenous and Afro-Caribbean cultural contributions.
"There're a lot of people in this room who hold histories and stories that we need to share and the park can benefit from their stories, as well as passing it on to our younger generation," Sewer said.
Sonia Jacobs Dow, the director of the St. Croix Landmarks Society, said that argument resonated with her. Dow was on St. John for a separate meeting that is part of a three-island tour of listening sessions about cultural preservation and the humanities. She said a bulk of the St. John meeting had focused on discussions of conflict between the community and park.
"St. John is under immense pressure," Dow said. "I don't know how 6,000 people live on such a small piece of such a small island, and things haven't blown apart yet. It's by the grace of God. And you really have an opportunity with this re-alignment to change the relationship, and bring what seems like it's on the edge of a disaster towards something really good."
Several residents also said it was imperative that the park take seriously those St. Johnian families who have boundary disputes with the national park.
"The park's 75 percent of the land that they claim, I'm going to contest that," said Coral Bay resident Lorne Battiste. "I'm going to challenge the park to being copies of the deeds for all the properties that you guys say that you have."
"If you are serious about being good partners, resolve those issues. Give us back those lands that you can't prove that you own," he added.
Marsh-Monsanto, who once took the national park to court over a land dispute and won, said there are "terrible boundary disputes" remaining on St. John.
"I think advantage is taken of us because it takes a lot of money to get involved in a lawsuit against the park," she said.
The list of St. Johnians' grievances with the park piled up as the meeting proceeded, to include unmaintained island roads, special economic incentives and allowances for Caneel Bay resort, a lack of community consultation in management decisions, and a pattern of disengaged superintendents near retirement.
V.I. Unity Day Group member Lorelei Monsanto went as far as to call for the removal of Schaeffer, who she said has worked at the park for three years but has not been "visible in the community."
"I think the first thing you need to do is change the manager on St. John. Change means from the top down not the bottom up," Monsanto said.
Plaskett said she had had "very strong issues" with Schaeffer's predecessor, Fitzgerald, and was not aware his retirement would result in his deputy superintendent taking over the position.
Austin, when he spoke, urged the community to look to the future and work with the park to build better partnerships. He said he has travelled to the Caribbean parks eight times during his four years, much more than his predecessors, with that goal in mind.
"That's then; this is now. I'm making that commitment. The congresswoman is making that commitment. Randy and Jane, and all of us here, are making that commitment. If we don't meet our commitment, then judge us, but let us have this chance," he said.
The majority of the issues raised at the meeting, however, have been around for more than half a century, and many St. Johnians appeared frustrated with that response. When Austin told the crowd "the park service is here to support you. It's your park," the crowd collectively muttered back "no, it's not."
St. John resident Cooper Penn, who works for the office of Sen. Janelle Sarauw, encouraged park management to not be discouraged by community anger.
"You need to prepare to take the blows," Penn said. "When you come out to the community now you are not going to be greeted with open arms. It's just not going to be that way for a while. Don't run away, is what I'm asking. Come out, take the blows, and we'll move forward."
Sen. Myron Jackson, president of the 32nd Legislature, also attended the meeting and said the local government has its own complaints with the NPS. He encouraged the community to hold new leadership accountable.
"The relationship between the territorial government and the federal government has been one of contention," Jackson said.
He said it was frustrating for him as a policymaker to see the absence of park representation at important community meetings, often for the stated reason that federal bureaucracy does not allow for their involvement.
"And in many cases it's a farce," Jackson said. "because it's really just that [park] administrators have decided that they don't want to engage the territorial government on this level, in the issues related to the people of the Virgin Islands. And I think that's a travesty."
Lavasseur said he will travelling to St. John frequently during his tenure as Caribbean Parks Superintendent in order to "spearhead heavy talks" with the community.
A second public meeting with Plaskett, Lavasseur and Austin is scheduled for St. Croix at 6 p.m. Monday, Aug. 7. The meeting will be held in the Danish West India & Guinea Company Warehouse in Christiansted.