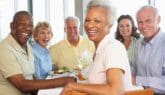 Diane T. Capehart – a well-known and distinguished member of the community, official of the Government of the Virgin Islands and former senator – has been appointed associate state director of advocacy and community outreach for AARP in the Virgin Islands, effective Aug. 14, according to a press release issued Tuesday by AARP in the Virgin Islands.
Capehart will be responsible for leading AARP's advocacy work in the Virgin Islands as well as community outreach and volunteer development on St. Thomas and St. John. "With an outstanding community leader and former elected official like Diane on our team, AARP will move into the next generation of its dynamic work with AARP volunteers, effective advocacy and diverse community outreach efforts," said AARP State Director in the V.I. Troy A. de Chabert-Schuster.
"Thank you for the formal introduction to the Virgin Islands AARP community. It is with great pleasure that I have the opportunity to work as a member of the AARP-VI state team. I look forward to continuing to strengthen communities and being an advocate in the V.I.," said Capehart.
Diane T. Capehart spent two years as the quality control reviewer in the V.I. Department of Health's Division of Medicaid, four years as the supervisor of health insurance in the Division of Medicaid, 12 years as program administrator in the Department of Planning and Natural Resources' Environmental Protection Division, a member of the 30th Legislature of the Virgin Islands – St. Croix District, and most recently served as the administrator of the V.I. Department of Human Services' Public Health Insurance Services (Medicaid-M.A.P.).
"With Ms. Capehart's experience in public health insurance services (Medicaid) and her experience in grassroots advocacy as a former senator, we look forward to robust advocacy on behalf of our 23,000 members in the Virgin Islands and the entire 50+ population and their caregivers," de Chabert-Schuster said. "AARP in The Virgin Islands also looks forward to intensifying its community and volunteer outreach on St. Thomas and St. John."
Capehart will be working in AARP's office on Veteran's Drive in Charlotte Amalie, St. Thomas.