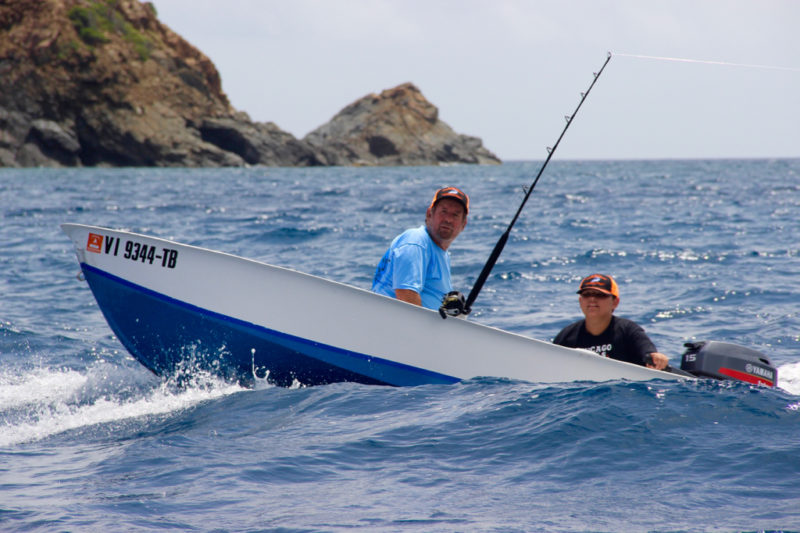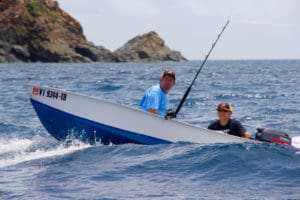 A young angler reeled in a 26.05-pounder kingfish Sunday, besting the competition in the 29th Annual Bastille Day Kingfish Tournament.
The 17-year-old Lawrence Aubain, Jr., of St. Thomas placed first in the competition that drew 175 anglers, including 30 junior ones, a win that earned him $2,000 in cash and other prizes.
"We left out of Frenchtown and headed south," said Julian Aubain, Lawrence's father. "He hooked up the big one mid-morning. You never know what you'll catch. That's how it is."
Aubain, Jr., also was awarded Best Junior Male Angler with a three-fish total that together weight 36.05-pounds. John Clark won second place for the largest kingfish, reeling in a 22.9-pounder.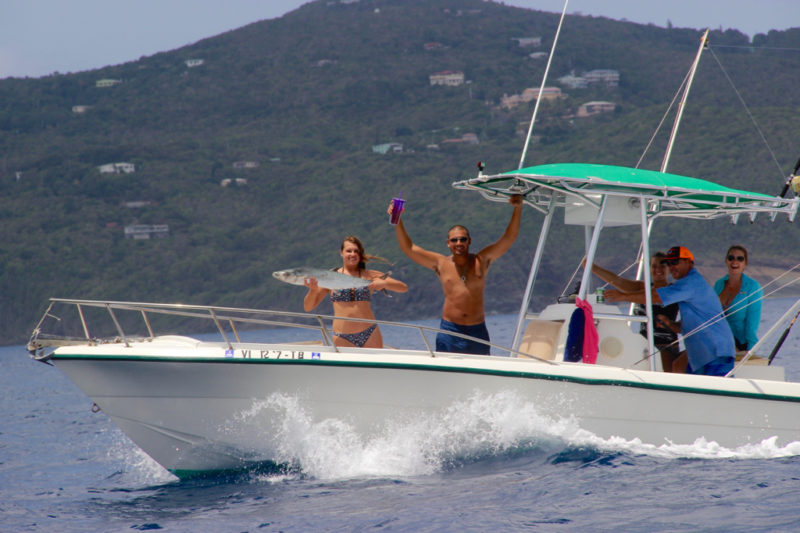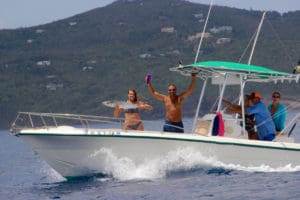 The Best Female prize went to Anne Tagini, who caught five, totaling 43.25-pounds of fish, and Isabelle Gatcliffe earned Best Junior Female with her catch of 22.40-pounds of fish.
Out on the water, the focus was on fun. The tournament attracted female and male anglers of all ages, with a number of boats full of multi-generational families and lifelong friends \eager to showoff their biggest fish for a photo op. With blue skies and relatively calm waters, all the competitors appeared to enjoy the feel-good day on the ocean, even if their catch fell short.
Catherine Bryan, a coordinator from the Northside Sportfishing Club, said the tournament is held to commemorate Bastille Day, since many who live in the Hull Bay community are of French descent.
The tournament draws hundreds to Hull Bay Hideaway in celebration with live music, food and other activities. During the afternoon, Cool Session Brass performed with Dem Fellas band taking the stage in the evening.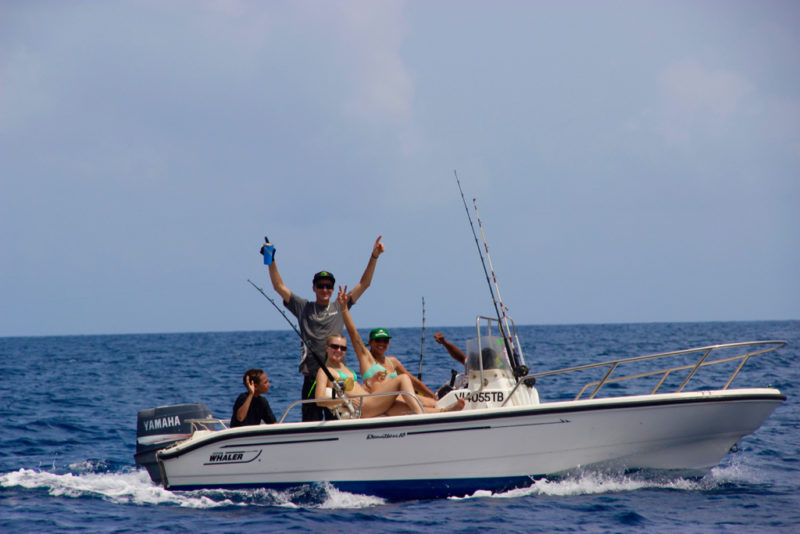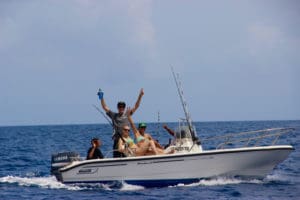 "We're most proud to carry on the scholarship tradition of late Sen. Lorraine Berry," Bryan explained.
This year three students received scholarships to help defray the costs of university or technical school. The recipients were Brianna Berry, Edwin Bryan III and Keyanna John.
Bryan said the fishing tournament and accompanying festivities are one of the only events that take place on the Northside and the community really appreciates that the Department of Public Works helps cleanup the roads and Hull Bay Beach in preparation.
Jessica LaPlace, one of the event organizers and a member of the Northside Sportfishing Club, said the non-profit, all-volunteer event draws people from near and far.
"The Bastille Day celebration is like a reunion for many of us. We see people that we haven't seen in years," LaPlace said.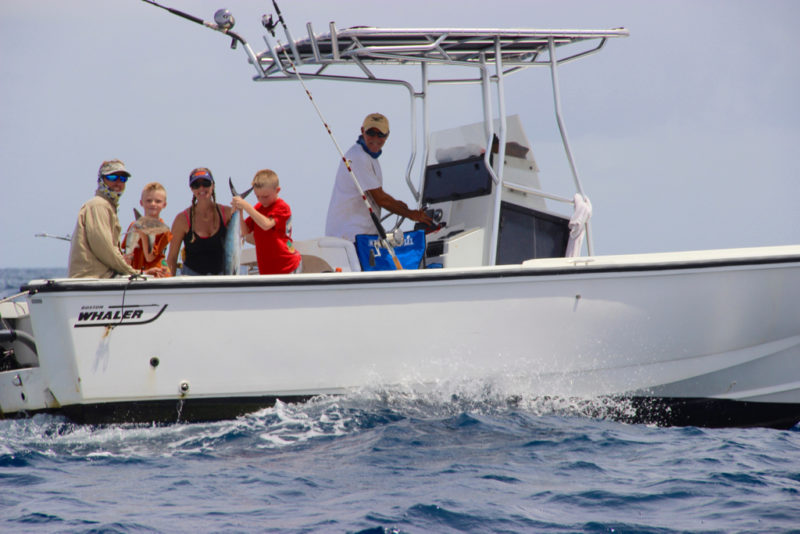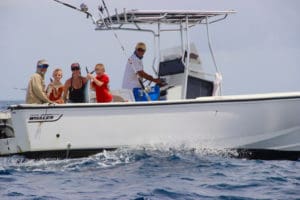 With many activities for the kids, the family-friendly fete draws people of all ages. This year people got a chance to open up a calabash and scrape it clean to make a bowl, cup or planter. Shelli Brin-Olive of St. Croix's Ridge to Reef Farm shared this craft with many of the partygoers, teaching them how to cut into and preserve the calabashes.
The event's media contact, Carol Bareuther, said that during part of the tournament a helicopter goes out so a photographer can get aerial shots of the competitors and to make sure all the boats are in bounds.
"We've never had a problem with cheating, which is why the participation is so high – everything is really fair," Bareuther said.
Fish that competitors caught but couldn't eat didn't go to waste. Team members from Coral World Ocean Park were on hand to collect the fish, so they could feed them to the park's sharks.
Trista Baxter, a senior aquarist with Coral World Ocean Park, said sometimes the fish are caught in areas where ciguatera could be present, so it's not safe for human consumption and can be fed to sharks or used as baitfish instead.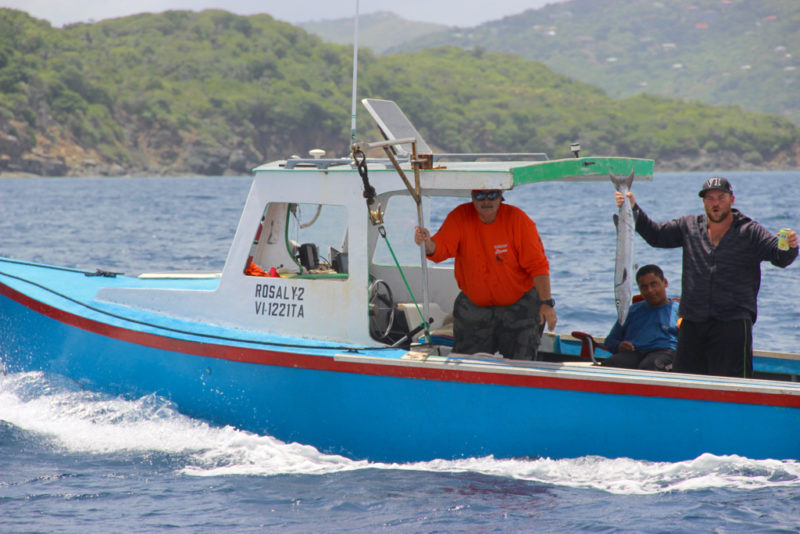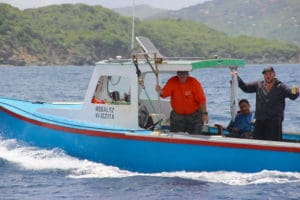 Members of the St. Thomas Civil Air Patrol volunteered to keep the event orderly by directing traffic and assisting visitors with parking.
The event benefits the Joseph Sibilly School, St. Thomas Rescue, Civil Air Patrol and Nana Baby Children's Home. Over almost three decades, the nonprofit Northside Sportfishing Club has donated more than $189,000 to community organizations through the annual fishing tournament.
Sponsors of the event included Coors Light and Captain Morgan, distributed by Bellows International, Yamaha, distributed by Offshore Marine, NEMWIL, managed in the USVI by Red Hook Agencies, TOPA Insurance Services, Inc., Budget Marine, Caribbean Gifts & Things, and Scoops & Brew, Gelato and Coffee Bar.
The following anglers placed in the tournament:
Largest Kingfish – Lawrence Aubain, Jr., 26.05 lbs, About Time (boat name)
2nd Largest Kingfish – John Clark, 22.90 lbs, Emanuel
3rd Largest Kingfish – Lance Bryan, 22.70 lbs, Elowyn
4th Largest Kingfish – Jeff Conkin, 18.80 lbs, Gone Ketchin
Best Boat – Capt. Chris Bryan, 6 fish, Feel Good I
Best Captain – Capt. Hollis Roberts, 4 kingfish, Hooter Scooter
Best Female – Anne Tagini , 43.25 lbs, Feel Good I
Best Male – John Clark, 40.95 lbs, Emanuel
Best Junior Male – Lawrence Aubain, Jr., 36.05 lbs, About Time
Best Junior Female – Isabelle Gatcliffe, 22.40 lbs, Double Header
Largest Barracuda – Paul de Lyrot , 29.10 lbs, Feel Good I
Largest Bonito – Anne Tagini, 3.45 lbs, Feel Good I; Isabelle Gatcliffe 3.45 lbs, Double Header
Largest Mackerel – Francois Brin, 5.25 lbs, Silver Fox