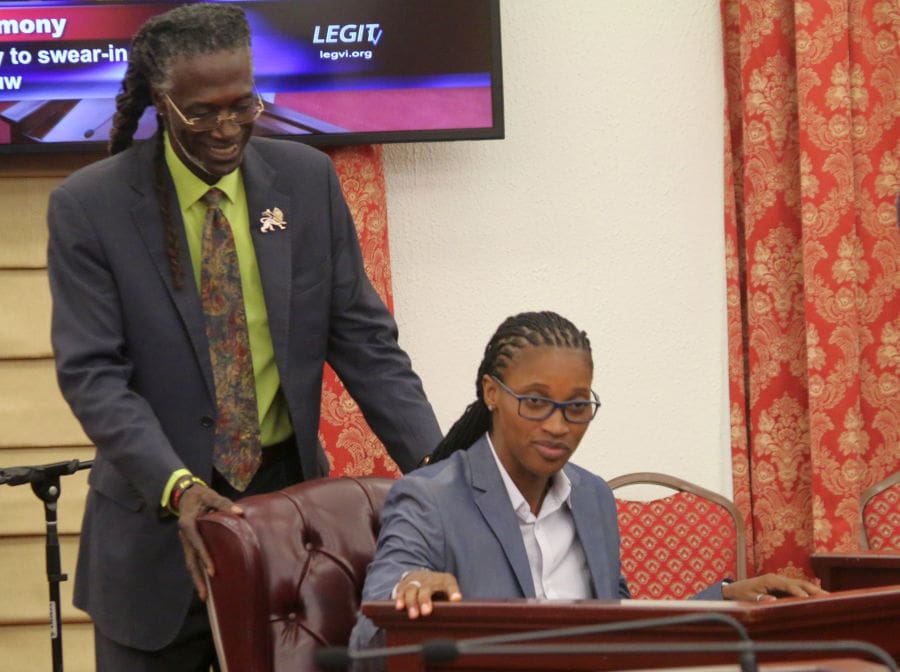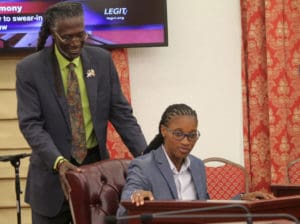 Janelle Sarauw took her oath of office Friday and assumed the St. Thomas-St. John District Senate seat that has remained empty for the past seven months.
Sarauw was escorted into the Senate chamber on St. Thomas escorted by the Legislature's vice-president, Sen. Nereida Rivera-O'Reilly, and sworn in by V.I. Supreme Court Justice Rhys S. Hodge. The ceremony included an invocation and benediction delivered by the Rev. Jason Jordan of the Love of Christ Fellowship Church; the National Anthem and Virgin Islands March sung by Lorna Freeman; and the Certification read by Senator Jean Forde.
Sarauw's path to the Senate was a long and arduous one, the newly installed lawmaker said.
"It was a difficult journey and I've never been tested so deep," Sarauw said after being sworn in. "My faith, my optimism, my resolve was tested, everything in me was tested. But for me to be here, to know what I know, to do what I know, I had to go through what I went through, and God used me as his vessel to bring to light the many issues that we have."
Sarauw had been embroiled in seven-month legal battle with former senator-elect Kevin Rodriquez, which officially ended last week when the St. Thomas-St. John District Board of Elections certified the results of an April 8 special election that was held months after Sarauw legally challenged Rodriquez's eligibility to run for office during the November 2016 general election.
The case made its way through local and federal courts and eventually ended up in the Third Circuit Court of Appeals, which forced the Legislature to determine if Rodriquez should be seated. In an 8-6 vote on June 28, senators voted not to admit him as a member due to questions about whether he had met the legal residency requirements. While there are still separate lawsuits pending on the matter, Sarauw was able to be sworn in Friday in front of her family and supporters.
"This whole conflict has torn this whole community apart, it has torn friends apart, it has torn colleagues apart, it has torn political parties apart, but now is the time to heal," Sarauw said Friday. "Because if we are to achieve some level of political maturity, we cannot run from the tough issues. We must discuss the tough issues and use the conflict as a catalyst."
"I look forward to moving forward, I look forward to working with my colleagues and to bridging the gap and providing a government that is accountable transparent and working for the people."