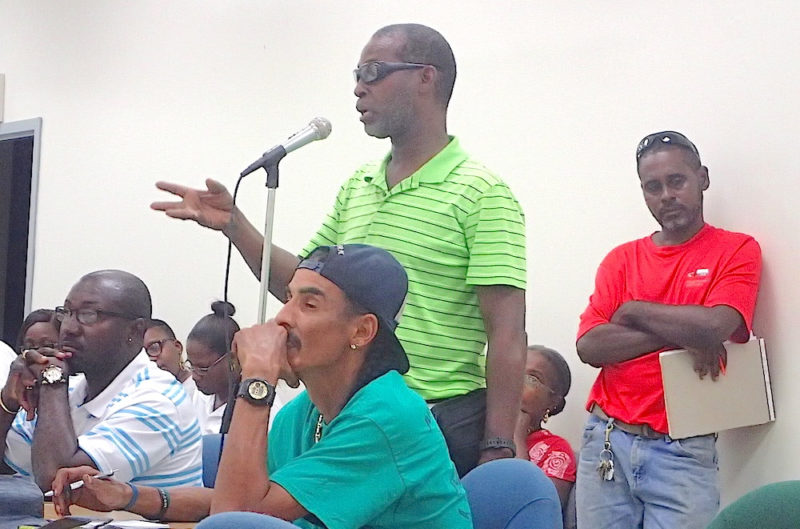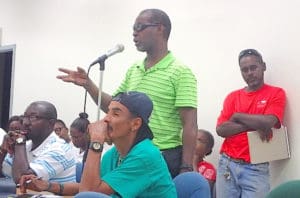 St. Croix waste haulers objected en masse Thursday night to fees being imposed by the V.I. Waste Management Authority beginning Aug. 1 – with several saying households also should pay to dispose of the territory's trash.
The town hall meeting hosted by VIWMA was attended by representatives of trucking companies and authority employees who listened politely as Ann Hanley, wastewater director, and Vince Ebbesen, solid waste director, explained the new charges for using treatment plants on all three island. According to Hanley, almost a dozen companies will be affected by the new rates.
Until now, private citizens and businesses have used WMA services without charge, but new fees range from $52 to $65 per ton of solid waste and $14 to $76 per 1,000 gallons of wastewater, depending on the composition. Refuse will be weighed and invoiced when it is delivered to the treatment facility. Businesses will be responsible for charging their customers separately.
Originally, the plan was to include private customers and commercial customers. Now, however, only commercial customers will be charged for using the St. Croix transfer station, the Bovoni landfill on St. Thomas or the Susannaberg transfer station on St. John.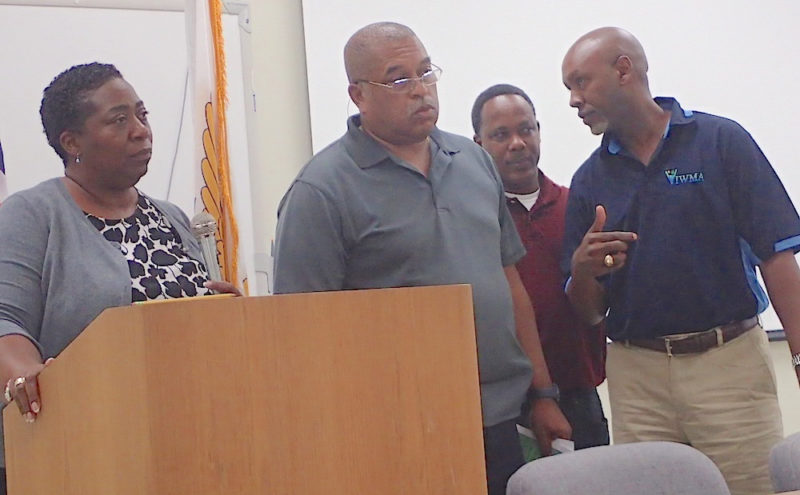 John Beagles of Cruzan Environmental Services, said the fees might force him to increase septic charges by as much as 35 percent. He said the plan doesn't allow him to charge his customer accurately because he collects payment when he provides the service, which is before he delivers the waste to the treatment plant.
Roger St. Rose, of Atlantic Trucking, agreed with Beagles that he wouldn't be able to properly charge customers when he makes a pickup without knowing the weight of the debris.
"I just see this thing putting me out of business," he said, adding that public traffic at the landfills will "skyrocket" because customers won't want to pay $900 for commercial waste removal in addition to $140 for a bin.
"You're really shutting down the waste hauling businesses in the Virgin Islands," said Marcia Richards of V.I. Regulated Waste Management, Inc., adding there hasn't been enough time to educate customers.
Pamela Bates, of Bates Trucking, said there is a price war and "haulers will lose out" by imposing the fees on Aug. 1. More trash will accumulate on the island, especially discarded tires, she said. Delay the new charges until Jan. 1, she suggested, to give truckers time to change their contracts and explain the fees.
"It's a war on businesses – a specific tax against haulers," Lloyd Daniels, of Daniels Trucking, said. "The government is forcing us to collect taxes for them."
Several people also complained about stiff fines of $1,000 for an expired permit and $5,000 for a leaking septic.
According to Ebbesen, Waste Management currently collects trash from 12,500 residences on St. Croix and 3,000 on St. Thomas – most without charge.
Executive Director Roger E. Merrit, Jr., said the agency won't break even with the new fees but will offset the cost of running operations. Originally, they projected raising almost $7 million from the solid waste disposal and $400,000 from wastewater treatment when the fees were approved more than a year ago, but he said those numbers currently may not be accurate.
"Forty or 50 years. For however long the landfill has been here, there have been no fees," he said.
Ebbesen said the comments and request for postponement will be taken into consideration, but as it stands the fees will be implemented beginning in August.
Town hall meetings are scheduled also for the St. John Legislature Complex from 6 p.m. to 8 p.m. July 17 and at the St. Thomas Curriculum Center from 6 p.m. to 8 p.m. July 18.