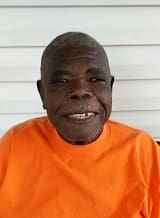 Samuel Uriah Phillips, better known as 'Joey" or "Slipping," of St. Kitts died on Thursday, June 29, in Orlando, Fla. He was 91 years old.
Joey/Slipping was born on St. Kitts to David Williams and Frances Phillips on March 5, 1926.
Joey is preceded in death by his mother, Frances Phillips; father, David Williams; brothers, Earnest and Solamon Phillips; and sister, Annie Bertie.
He is survived by: his wife of 59 years, Pearline Phillips; children: Valerie Ottley of St. Martin; Alphonso Williams of Anguilla, Heather Phillips, Arlene Phillips-Donovan, Gweneth "Gwen" Phillips-Roberts, Octavia "Ockie" Phillips-Roberts, Fredrick "Snake" Phillips and Joseph Phillips: sisters: Violet Smithen and Lillian Susie Brown of St. Kitts; brother, Charles "Batlin" Phillips of England; and sons-in-law: Kelvin "Kelly" Donovan, Allen "Big Al" Roberts Sr. and Cecil "Butch" "Bes-a-dem" Roberts.
He is also survived by daughter-in-law, Catalina "Kathy" Diaz-Phillips; granddaughters: Tameka, Alphonsine, Jacintha Williams (of Anguilla), Kheelah Richards, Tyshanna, TyKoiya Phillips and Ah'Quien Roberts; and grandsons: Sheldon Ottley, Kareem "Bajah" Phillips, Keishawn Richards, Sekanii Bell, Cecil "Kebo" "Big Sho" Roberts Jr., Carlos Stephens, Michael "MicLove" Stephens, Kyam Richards, Akeem "BamBam" Roberts, Akheel "Kilo" Roberts, Joseph "LilJoe" Williams, Allen "AJ" Roberts Jr. and TyQuoy Phillips.
Other survivor include special goddaughter, Isha Aska-Peters; 38 great-grandchildren; special sister-in-law, Clarita Hendrickson; special niece, Gwendolyn "Fannie" Duncan (of St. Kitts); seven brothers-in-law: four of England, one each of Miami, New York, and St. Thomas; four sisters-in-law: three of England and Veronica Ella Rogers of Miami; special friends, Marsham family, Bernice Sapleton and Mrs. Francis; many other nieces and nephews on St. Thomas, St. Kitts and England; as well as many other families and friends too numerous to name.
Relatives and friends are respectfully invited to attend the first viewing from 7:30-9 p.m., Thursday, July 20, at the Celestial Chapel of Hurley Funeral Home. The second viewing will be held at 9 a.m. followed by a funeral service at 10 a.m., Friday, July 21, at Emmanuel Baptist Church in Tutu. Interment will be at Smith Bay Eastern Cemetery.
The family requests that mourners wear festive colors.
Arrangements are under the care of Hurley Funeral Home and Cremation Center of St. Thomas, St. John, St. Croix and Tortola.
For directions and online condolences, please visit us at www.hurleydavisfuneral home.com