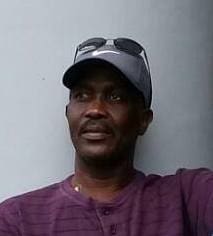 Bentley Leroy Brookes, better known as "Ben" of Nevis, died on Sunday, June 18, at his St. Thomas home. He was 56 years old.
Bentley Brookes is survived by his wife, Lillian Graham Brookes; daughter, Shantel Brookes; sons: Tyrone Brookes, Kelly Brookes and Kelvin Brookes; sisters: Amorelle Brookes-Webster, Marilyn Quailey, Yvonne Sutton, Dorette Blake, Judith Paris, Laurette Pemberton and Janice Webbe; and sisters-in-law: Evangeline Jackson, Sonya Graham, Joyce Graham, Luna Graham, Lydia Graham, Bernice Graham, Linda Graham and Tonia Savage Brookes.
He is also survived by brothers-in-law: Tom Quailey, Joseph Sutton, Ronald Blake, Spencer Paris, Winston Pemberton, Dave Webbe, Liston Graham, Franklyn Graham, Leroy Sewer, Leonard Smalls and Eric Smalls.; grandchildren: Cequan Arthurton, Cequoia "Briea" Arthurton, Emoyen Grant, Ky-Moyen Grant, Jahceibo Hobson and Kokoro Freeman Brookes; special friends: Joseph, Cardinal "Ringo" Riley, Spencer Browne, Leroy, Henry Laws, Alphonso Williams, Kurt Rogers, Lind, Masac Nursing Home, Lacell Phillip, Tiger, David, Nick Auto Repair, Laxton and Joseph Bass, Kevin Dore and Aubrey Iboo Boone. He is also remembered by many other relatives and friends too numerous to mention.
Relatives and friends are respectfully invited to attend the first viewing from 5-7 p.m. on Thursday, June 29, at the Celestial Chapel of Hurley Funeral Home. The second viewing will be held at 9 a.m. and the funeral service at 10 a.m. on Friday, June 30, at Wesley Methodist Church. Interment will follow at Smith Bay Eastern Cemetery.
Arrangements are under the care of Hurley Funeral Home and Cremation Center of St. Thomas, St. John, St. Croix and Tortola.
For directions and online condolences, please visit us at www.hurleydavisfuneral home.com