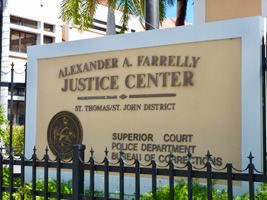 Former V.I. Police Capt. Enrique Saldana was sentenced Tuesday to 40 years for the May 2014 murder of his wife, which prosecutors said would keep the 53-year-old behind bars until at least his mid-70's.
The sentence was handed down by V.I. Superior Court Judge Michael Dunston, who presided over Saldana's trial in March. After five days of testimony and four hours of deliberation, jurors unanimously convicted Saldana of one count each of second-degree murder, second-degree assault and two counts of third-degree assault, all crimes of domestic violence, in connection with the May 2, 2014 death of his wife, Jeanette Magras-Saldana, 43.
"The Magras family has indicated to me that they are pleased with Judge Dunston's sentence of the defendant, and so are we, in that given his age and that he is a habitual offender, he will not be eligible for parole until his mid-70's, which means that he will effectively spend the rest of his life in jail – a fitting punishment because that man cruelly murdered Jeanette, and from his statement to the court this morning, he seems to be haunted by the thought of her death," Attorney General Claude Walker said in a statement Tuesday.
According to the statement, Saldana testified at the sentencing that he "missed" his wife "every day."
"For three years every day, I wish to God that it had been me," Saldana said on the stand. Saldana has remained in the custody of the Bureau of Corrections since his conviction in March.
The trial in March relied on the testimony from at least 20 witnesses, who proved to the jury that Saldana had drugged his wife, causing her to be debilitated, then beat her and killed her.
According to the testimony, on the morning of May 2, 2014, Saldana called 911 to report that his girlfriend, which is how Saldana referred to his wife during trial, wasn't breathing and that he needed assistance to go to the hospital. At the time, he was in the area of Food Center on the East End of St. Thomas, and the transmission from the 911 operator was caught by an off-duty police officer, Cpl. Bernard Burke, who met Saldana at the hospital and helped him remove Magras-Saldana's body from the jeep Saldana was driving.
In a video interview with police, Saldana told investigators that he was at his wife's house the day before and saw her take a handful of sleeping pills on two separate occasions. He said his wife fell on her way to the kitchen and she wiped her bloodied nose with a piece of tissue, which she threw into the toilet.
Then, early in the morning of May 2, Saldana and his wife went to Vessup Beach for a family gathering Magras-Saldana was scheduled to attend. While at the beach, Magras-Saldana fell down, and when her husband tried lifting her, she cried out in pain. She also fell at least twice as she was coming out of the water, and she stopped breathing, Saldana testified.
At the hospital, medical staff took 27 minutes trying to revive Magras-Saldana, but were unsuccessful. Medical Examiner Dr. Francisco Landron, who performed the autopsy on Magras-Saldana, testified that she died as a result of acute diphenhydramine, a substance which is marketed as Benadryl. According to a toxicology report, the diphenhydramine level in her body was 7,900 nanograms, which Landron said was considered a fatal level of concentration.
Landron also noted that Magras-Saldana's body bore multiple bruises and contusions, including two large bruises on the left breast, one large bruise around the chin and several bruises on both arms.
"All the bruises were the result of an impact caused by a blunt force object, such as a punch or a kick," Landron said during the trial.
By the time Magras-Saldana arrived at the hospital, her body was stiff and her temperature showed she had been dead for about two to four hours, Landron told jurors. Saldana told police that she was alive 15 minutes before he brought her to the hospital.