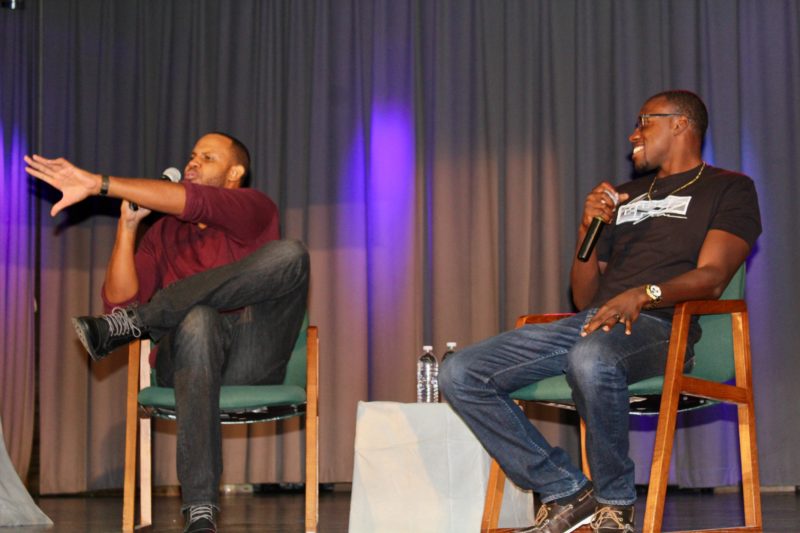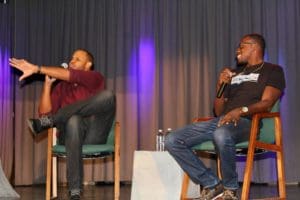 Middle, and high schools students in St. Thomas enjoyed a candid conversation with Virgin Islands' native and talk show host Peter Bailey when he sat down with St. Thomas boxer and celebrity chef, Julius Jackson on Bailey's online talk show, NiteCap LIVE, Friday at the Bertha C. Boschulte Middle School Auditorium.
Students from Charlotte Amalie High School, Ivanna Eudora Kean High School, All Saints Cathedral School, Sts. Peter and Paul Catholic School and BCB Middle School filed into the auditorium for the live taping. The show opened with a folkloric Anansi tale told by master storyteller, Yohance Henley. The story highlighted the reality of gun violence and neighborhood conflicts facing local communities. Following Henley's performance, Kean senior Indira Labone gave a rendition of Andra Day's "Rise Up' and was asked for an encore performance when Bailey appeared on stage.
In Bailey's chat with Jackson, Jackson opened up about his rise to national and international prominence and some of the challenges he faced growing up on a small island. He credits his family for ensuring he and his brothers knew the value of hard work and determination, which he says help him in his entrepreneurial endeavors today.
Bailey and Jackson are both alumni of Ivanna Eudora Kean high School and agreed that education is the foundation of success. They encouraged students to study and remain focused on succeeding in school.
"Education is one the most important keys to success," Bailey said.
Going to "college was one of the best decisions I've ever made. When people see me, they think I am an athlete. I wanted to be the team owner, not the player, and I always believed that you're only as strong as your intellect," he said.
The themes of beating the odds and challenging stereotypes echoed throughout the conversation, as Bailey and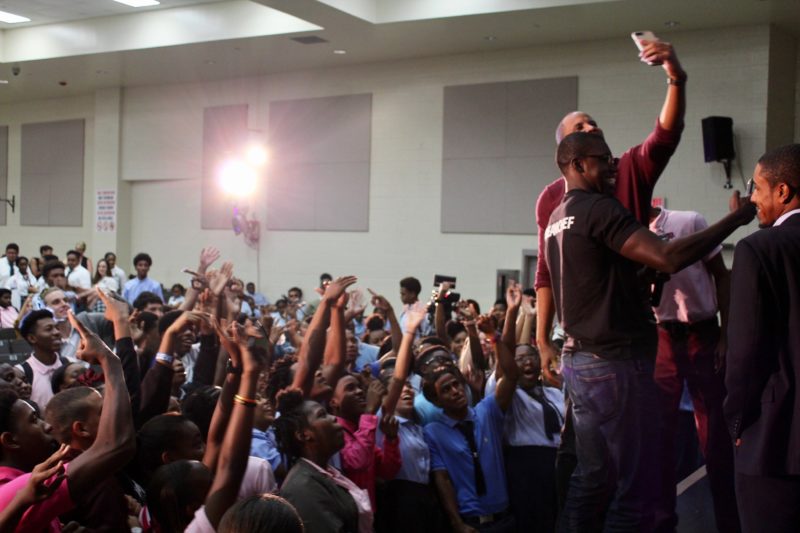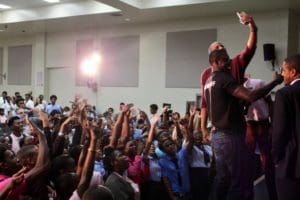 Jackson told numerous stories of being the underdog in situations that eventually contributed to their success, according to an account of the event from the Department of Education.
Bailey, who stands 6'8", confessed his passion for writing at a young age and breaking stereotypes that he should have been an athlete. Jackson, who is an athlete, also shared that he is stereotyped by some to be solely an athlete.
"Because I am an athlete, more so a black athlete, some people think that's all I aspire to be," Jackson said.
"I wear my chef hat when I travel to fight, and people are actually surprised that I am also a chef and an entrepreneur."
While primarily a boxer today, Jackson graduated from the Florida Culinary Institute in West Palm Beach in 2008, was chef at Fat Turtle for awhile, appeared on an episode of the Cooking Channel's Beach Bites With Katie Lee and has won several V.I. cooking competitions.
A question-and-answer segment followed the dialogue and several students asked about Bailey and Jackson's educational background, current success, and simple life hacks to high school and getting through the teenage years.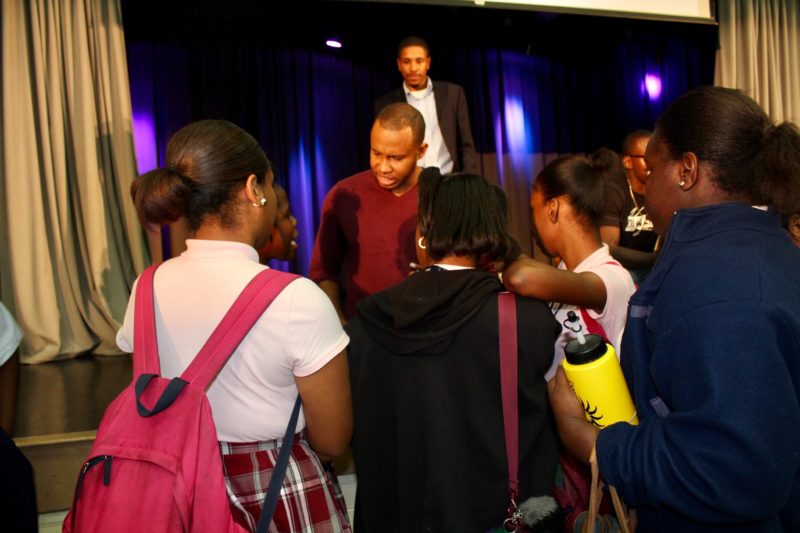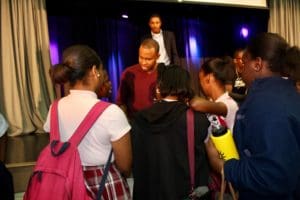 Peter Bailey is a US Virgin Islander and nationally recognized author and journalist. His book on the life of hip-hop star Trick Daddy was praised as "one of the pop music gems of 2010" by the New York Times. Bailey's popular web-based show, NiteCap with Peter Bailey" is filmed in different locations throughout the United States, more recently with a live show in the Virgin Islands which included the territory's high school students. NiteCap has seen the likes of Rick Ross, Janelle Monae and Chad Johnson cover the entertainment industry and pop culture. Prior to launching NiteCap, Bailey wrote for TIME magazine, Newsweek and the Miami Herald. Bailey hopes bringing the show to the Virgin Islands will provide inspiration for youth and serve as positive media exposure for the territory.