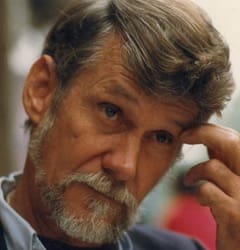 Neil Lewis, a 55-year resident of St. Thomas, U.S. Virgin Islands, died peacefully at his home in Red Hook on April 29. He was 83 years old.
Neil was born in 1933 in Saratoga Springs, N.Y., to Clifford and Marion (Stillson) Lewis. He graduated from Glens Falls High School of New York in 1951, studied retail business management at the State University of New York in Utica, and received a B.S in Advertising from Richmond Professional Institute (Richmond, Va.) in 1956. His graduate studies were in Communications at American University, Washington, D.C. He also served in the U.S. Naval Reserve.
Drawn to "messing around in boats" from an early age, Neil made his first trip on the open ocean with the Sea Scouts on a Naval Reserve destroyer from New York to Puerto Rico at age 15. A year later, he would take a 14-foot outboard boat on the Hudson River from Whitehall, N.Y., through the locks of Lake Champlain and on to Quebec City, Canada — a rather ambitious trip for a 16-year old. In 1962, at age 28, Neil returned to the Caribbean, moving to St. Thomas and, in his words, "immediately realized he had found the place where he belonged."
Ever the entertainer, Neil had worked in radio and the early days of television during and after college, hosting a children's show in Richmond, Va. He was also a resident member of The Barksdale Memorial Theatre Company in its early days in Hanover, Va. He had an abiding fascination with ancient folk music and a repertoire of hundreds of songs of love, tragedy and bygone days in several languages including French, German, Gaelic and Hebrew. He sang in coffee houses in Washington, D.C.; in his early days on St. Thomas, he hosted a classical music program on WBNB Radio and could be found singing sea shanties and playing acoustic guitar at the bar at Yacht Haven.
The chapters in Neil's life on St. Thomas were marked largely by the charter boats he owned and captained, plying the waters of the Virgin Islands. Seaworthy wooden and island-built vessels were his choice: the Chiquita, the Selchie, the Arawak, and the Red Hooker. Seeking a larger boat that could accommodate more passengers and feeling that visitors should be able to go sailing on a vessel indigenous to the islands, Neil would eventually turn to Arawak's shipwright, Ralph Harris of Nevis, to build a new boat, a 60-foot wooden schooner, the Alexander Hamilton, using the traditional island shipbuilding methods followed for hundreds of years.
It would be one of the last sailing workboats to be built this way. These were the vessels around which his life revolved during his over 35 years of chartering in the Virgin Islands. After Hurricane Marilyn, Neil and his wife Katherine would embark on a new nautical adventure, offering week-long cruises on the Canal du Midi in southern France on their renovated Dutch canal barge Berendina.
If asked, he would say that it wasn't so much a love of sailing that was the main impetus for his life in the charter business but a love of people, sharing stories and preparing wonderful food, all the while sitting back and making life look easy and interesting. A folk singer, natural raconteur, marvelous cook and entertainer, he endeavored to offer his countless guests some of the best days of their lives.
A true Renaissance man, he studied and read and learned constantly. Sailing, cooking, boatbuilding, housebuilding, languages, writing — he had a fascination with the evolution of words and language and an unending curiosity. He was open to different opinions and thought about things deeply. He accepted people as they were. He had a gift for being spontaneous and knowing how to have fun, which he shared with his guests and the people in his life.
Perhaps his daughter Brett said it best, "He accomplished the only things that are of real importance. He made his love felt, and he was loved."
Neil is survived by his wife, Katherine Bartley; daughters; Brett Harrington of Auckland, New Zealand, and Janine Lewis of Brooklyn, New York; son-in-law, J. Christopher Harrington; and grandchildren: Auguste and Lindsay Harrington. He is predeceased by his parents; his brother, Glenn Lewis; his second wife, St. Thomas hotelier (Pelican Beach Club Manager) Genevieve M. Ozon Lewis; and his first wife, Erika Owen Lewis.
A Celebration of Life will be held at a later date.
The family would like to extend special thanks to Dr. David Weisher and Continuum Care Hospice for their kind and professional care, enabling Neil to fulfill his wish to remain at home during his last days.
Memorials may be made to the Marine Vocational Program, which endeavors to provide the youth of the Virgin Islands with a career path into the marine, tourism and hospitality industries. Donations can be made by a check made out to MVP, 6616 Estate Nadir, St. Thomas, VI 00802 or via https://www.gofundme.com/marine-vocational-program-mvp.
For more information on the program, visit www.abmt.vi/pages/mvp.htm.
Arrangements are under the care of Hurley Funeral Home and Cremation Center of St. Thomas, St. John, St. Croix and Tortola.
For directions and online condolences, please visit us at www.hurleydavisfuneral home.com.