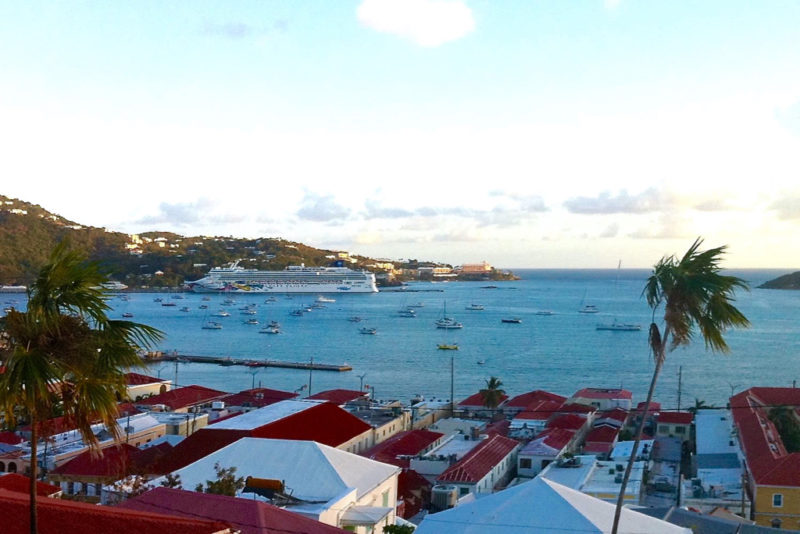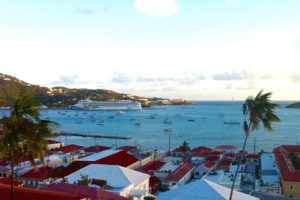 After decades of resistance from the territory's politically powerful taxi drivers, the U.S.V.I. government has issued a request for proposals for a company to operate water taxis in Charlotte Amalie.
The RFP asks for proposals to provide water transportation between Crown Bay, Water Island, Havensight/Yacht Haven Grande and Downtown Charlotte Amalie.
"The service will provide residents and visitors with direct, convenient access to the Downtown Charlotte Amalie area, at a minimum, on days when cruise ships are scheduled to arrive in the harbor," it reads.
Getting this type of transportation in place is a high priority for the cruise industry, Deputy Tourism Commissioner Joyce Griffin said Friday. The Tourism Department has been "working hand in hand with the Department of Property and Procurement and the Office of the Governor to ensure that it is done," she said.
"It is something that is needed in the territory as we continue working on improving our tourism product. It is a part of the feedback from the cruise lines to refresh our cruise product," she said.
"And it will help overnight traffic too. … it will help move pedestrian traffic around the downtown area, especially during cruise ship days," Griffin added.
There has not been transportation of this type in many years, if ever.
"This will be the first time that I know of, since I've been alive anyway, that we have had water transportation of this type," Griffin said.
This has long been a priority for the cruise lines but has been resisted by St. Thomas taxi drivers, who have a lot of political clout. The Legislature routinely changes V.I. law to favor drivers, but not to regulate or improve the industry. (See: Senate Loosening Taxi Regulations Again in Related Links below.)
Although tourism is the territory's primary industry and is projected to grow in importance to the local economy, at present there is no central number to call for a taxi and no reliable taxi service after dusk anywhere in the U.S. Virgin Islands. Unlicensed, unregulated "gypsy" cabs are a large portion of all taxi service on St. Thomas but are less active on St. Croix.
In 2014, Tourism Commissioner Beverly Nicholson-Doty said cruise companies wanted water transportation downtown and suggested there was an opportunity for more partnership between water transportation providers and local taxi associations to help traffic flow and relieve congestion in the future. (See: Progressing Tourism Industry Still Needs Boost in Related Links below.)
In 2012, then Public Works Commissioner Darryl Smalls told a town hall on the Charlotte Amalie Downtown Revitalization Initiative that plans were in the works to begin water transportation for the waterfront, Water Islands, Crown Bay and Havensight.
Also in 2012, Florida Caribbean Cruise Association Vice President Michael Ronan told V.I. officials and industry professionals at a tourism forum on St. Thomas the cruise lines would like some provision to allow water taxis to ferry passengers from point to point, raising concerns from local taxi and tour operators. Taxi drivers resisted.
"I know you guys are promoting water taxis … but you can do other things first," Bruce Flamon, owner of Flamon's Taxi and Island Tours said at that 2012 forum, suggesting staggering cruise departure times and other actions by other groups could spread out the need for transportation.
The resistance goes much further back than that. In 2001, Sen. Celestino White sponsored legislation on behalf of St. Thomas taxi drivers to block marine tour operators from picking up passengers at cruise ship docks throughout the territory. The bill, which was ultimately held in committee, would have forced cruise passengers to take land-based taxis from the West Indian Co. dock to the Charlotte Amalie waterfront, for marine tours.
But resistance to water taxis has apparently lessened with increased recognition of the need to work harder to attract visitors.
While V.I. overnight stays are up a modest 2.4 percent, cruise arrivals are down substantially, according to the latest figures from the V.I. Bureau of Economic Research. St. Thomas has seen an 11 percent drop in cruise passenger arrivals, this year versus last year. Worse, St. Croix has seen a 74 percent drop for St. Croix, possibly related to the recent imposition of Port Authority passenger fees for St. Croix travelers, driving home that competition.
"The Department of Tourism has not received any resistance," to water taxis, Griffin said Friday.
"If there was resistance in the past, people are recognizing there is a wave of change in the industry we have to adapt to. … Travelers like convenience. Time is money. Money is time. People on vacation don't want to spend time in traffic," she said.
The new urgency comes soon after recent meetings with cruise lines at the Seatrade Conference in Miami in March and a more recent meeting between the newly established Ports of the Virgin Islands – Charlotte Amalie Task Force and the Florida-Caribbean Cruise Association in Miami in late April.
"We must address the concerns raised by our cruise partners," Tourism Commissioner Beverly Nicholson-Doty said after that meeting, adding that priorities included putting harbor transportation in place, along with better infrastructure, better tours and shopping options.
"If we are not enhancing our product, we will continue to lose ground," Nicholson-Doty said April 29, acknowledging the loss of cruise traffic. Declining cruise numbers are an indication of the territory's missteps while other destinations have emerged in the region. "This is fixable, but it will take a concerted public and private sector commitment to change – thankfully, we are moving in the right direction," she said last month.