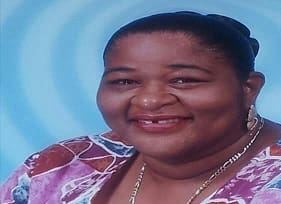 Janice E. Powell of St. Thomas died on Thursday, May 4, at Schneider Regional Medical Center. She was 58 years old.
She was preceded in death by her father, Alvin O. Powell Sr.; and her brother, Alvin O. Powell Jr.
Janice E. Powell is survived by her daughter, Renee A. George; mother, Alicia C. Powell; grandchildren: Ryan President and Cianna President; sisters: Karen Powell, Dawn Futrell, Sheree Powell-Smart, Faye Liburd, Audrey Powell-Burley, Anika Powell and Beverly Powell; brother, Kenneth Powell; aunts: Viola E. Smith, Anna Samuel, Ismay January and Andromeda Powell; and uncles: Aubrey Thomas, Winston Powell, Roy Smith, Samuel Powell and Alfredo Smith and Frank Powell Jr.; great aunts: Medina Calistro Scattliffe, Altagracia Calistro Padilla and Melita Calistro Barthlette.
She is also survived by great uncle, Henry Powell; nieces: Jenell Smart, Kennisha Powell, Makeda Joseph, Tashara Powell, Christal Powell, Genae Gonsalves, Khrya Powell and Renee Powell; nephews: Omari Hicks, Michael Callwood, Edgar L. Smart Jr., Dale Gonsalves, Khalifah Benjamin, Shawn Samuel, Jonathon Bell and Stephen Samuel; great nieces: De Anna Smart, SaRai Martin, Khaliana Benjamin and Nailah Hicks; and great nephews: Kayden Benjamin and Jayden Benjamin.
Other survivors include relatives: the Powell, Thomas, Sprauve, Calistro, Callwood, Gomez, Abbott, Schulterbrandt, Maduro, Vanterpool, Meyers, Sebastian, Walters, Francis, Hewitt, Harley and Richards families; special friends: Milton Frett, the Brunn Family, Pat Seales, Mabel Petersen and Helen Foy; as well as many other relatives and friends too numerous to mention.
Relatives and friends are respectfully invited to attend the first viewing from 5-7 p.m. on Thursday, May 18, at the Celestial Chapel of Hurley Funeral Home. A viewing will take place at 9 a.m. followed by a Mass of Christian Burial at 10 a.m. on Friday, May 19, at Holy Family Catholic Church in Anna's Retreat. Interment will be at Eastern Cemetery, Smith Bay.
Arrangements are under the care of Hurley Funeral Home and Cremation Center of St. Thomas, St. John, St. Croix and Tortola.
For directions and online condolences, please visit us at www.hurleydavisfuneral home.com