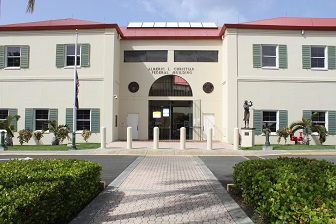 Another group is suing the V.I. government over new $25 per day of occupancy fees on timeshare units in the territory. This is the second lawsuit over the fees, proposed by Gov. Kenneth Mapp as one of several new taxes and fees imposed to help balance the territory's budget in the midst of a severe fiscal crisis. They were signed into law in March and go into effect June 1. (See Related Links below)
Great Bay Condominium Owners, representing St. Thomas Ritz Carlton Club timeshare owners and individual owners and individual owners Tim O'Brien and Keith Cheatham filed suit in U.S. District Court on Wednesday.
They make similar, but slightly different arguments as those of the national lobbying group the American Resort Development Association's Resort Owners' Coalition, which filed suit May 1.
They make several government policy arguments, arguing there "is no indication that any study of the "impact of timeshare activities and components in the Virgin Islands" was ever conducted prior to passage of the Act." and that timeshare "owners have significantly less impact on the infrastructure of the Virgin Islands than local residents."
The plaintiffs also complain that the government changed property tax rates in 2008, increasing the rate for timeshare units above that of condominiums, which they say are fundamentally similar.
The core causes of action are the same as those in the ARDA suit: that putting fees on timeshare units violates the Commerce Clause, the Privileges and Immunities Clause and the Equal Protection Clause of the U.S. Constitution, because they affect interstate trade and treat nonresidents in a different fashion from residents.
As with the ARDA complaint, the Great Bay/Ritz Carlton complaint does not say how this fee is distinct from the many other taxes and fees in many U.S. jurisdictions that have been aimed primarily at out of state travelers for many decades. For example, a great many jurisdictions, including the USVI, charge hotel occupancy fees, which are, by the nature of hotels, aimed at getting revenue from visitors instead of residents. Williamsburg, Va., a town with a large tourist industry, charges a restaurant meals tax specifically aimed at deriving revenue from out of town and out of state visitors.
The USVI is also not the only jurisdiction to charge extra fees specifically on timeshares. Virginia Beach, Va. charges additional fees of $2 per night plus 8 percent occupancy tax. Hawaii charges a transient occupancy tax on timeshares of 9.25 percent per night.
The Great Bay/Ritz Carlton complaint also raises a concern about owners paying the same fee as renters, arguing it amounts to an unconstitutional taking of property:
"Imposition of the Environmental Impact Fee constitutes a cloud on title to each timeshare unit. The Act also has resulted, and will result in a decrease in the fair market value of Plaintiffs O'Brien's and Cheatham's timeshare interest, and of other timeshare owners," the suit alleges, asserting this "constitute(s) a taking, in whole or in part, of Plaintiff's protected interests in real property without just compensation, in violation of the Fifth Amendment to the Constitution of the United States, …".
The V.I. government has not yet filed a response to either suit and there are no court actions scheduled yet.