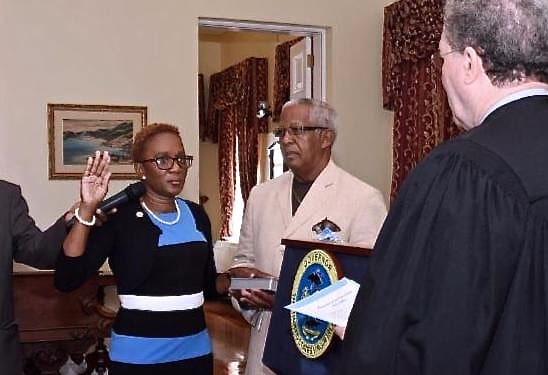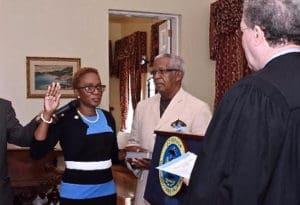 Felecia Blyden took the oath of office and formally assumed the office of commissioner of the Human Services Department Wednesday at a ceremony in Government House.
According to a statement from Government House, Gov. Kenneth Mapp said he is "confident he has finally gotten it right," and encouraged Blyden to continue her commitment to the compassionate care of clients, and to make them feel valued by society.
"Treat people as you would be treated," Mapp urged Blyden.
Blyden expressed gratitude to the many people who have helped to prepare her for this role during her extensive tenure as a social worker and administrator at DHS, and pledged her ongoing dedication to the service of clients.
She has been with Human Services for 26 years, most recently as administrator for Disabilities and Rehabilitation Services. She holds a master's degree in vocational rehabilitation counseling from the University of Arkansas at Little Rock and a bachelor's degree in social work from the University of the Virgin Islands. In 2006, Blyden was named Human Services' employee of the year.
She replaced acting Human Services Commissioner Anita Roberts, who faced intense criticism for abruptly moving some residents of St. Thomas's Sea View Nursing Home without coordinating with families and other agencies.
Mapp also announced the V.I. government has applied to the federal government to amend the State Plan for Medicaid. If the federal government approves the changes, it would qualify 19,000 more Virgin Islanders for the low income health insurance program, he said. Under Medicaid, 55 percent of approved medical treatment is paid by the federal government, with the local government providing the match for the balance. The territory has been trying for many years to get changes to how the territory is treated for Medicaid matching funds. Some states have matches as low as 25 percent, based on per capita income levels.
The statement does not say what changes the governor is seeking, but changing the matching formula to something similar to what states receive would bring many millions of dollars in additional Medicaid funding.