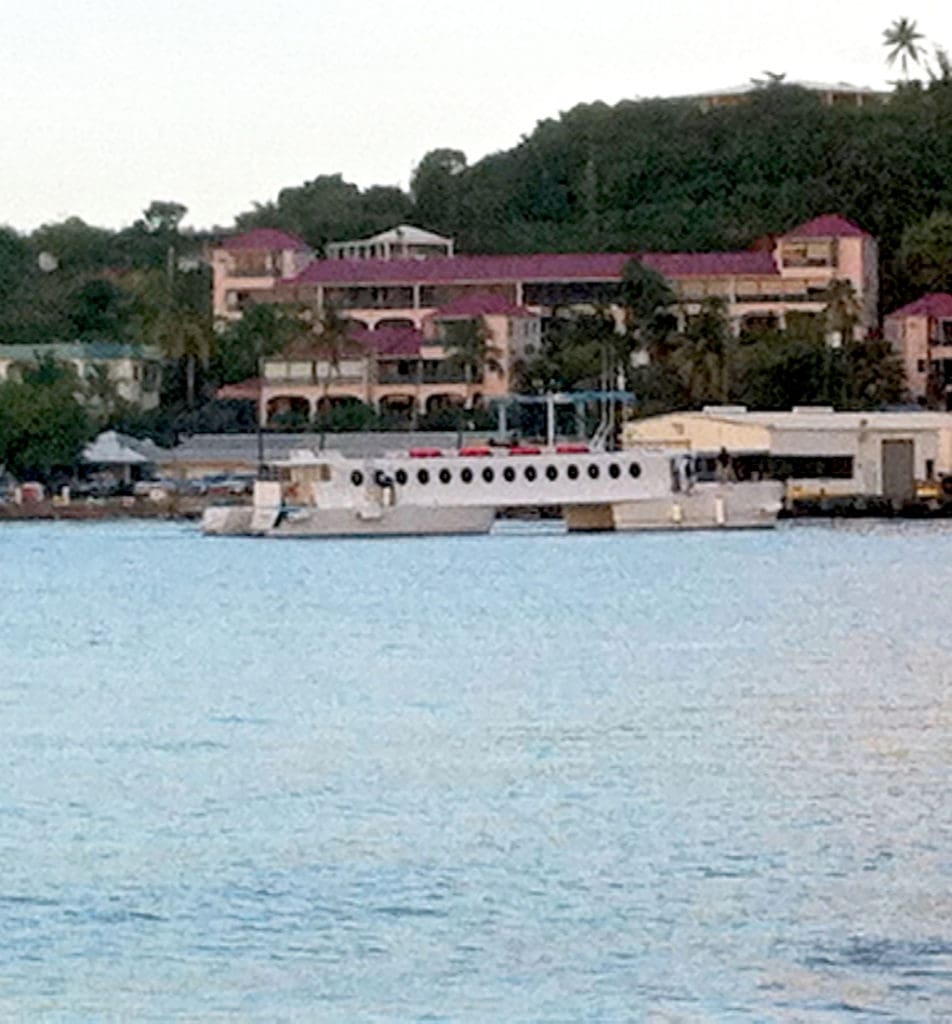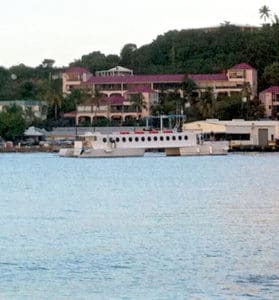 After guiding the QE IV smoothly in the Gallows Bay dock Wednesday evening, Chief Captain Michael Harper smiled and said, "We got all our parts, got everything back together, all is good."
The ferry, which makes two roundtrips between St. Thomas and St. Croix each day, was out of service for a week. Harper said the QE IV's stern drive had been damaged when the ferry was departing from Green Cay marina after a service call there.
Wednesday day was the first day the 100-foot vessel was in service after the incident, allowing the ferry to take advantage of the desire of many Crucians to go to St. Thomas Carnival. Only a couple passengers were seen arriving on the ferry Wednesday evening on St. Croix but Harper said he had taken about 40 passengers over to St. Thomas earlier in the day.
The QE IV seats 56 passengers, but that might eventually be increased to 70. The unusual looking vessel, constructed of carbon fiber, weighs only 31,000 pounds. Travel time between the two islands is estimated to be just over two hours.
The ferry only started service between the two islands at the beginning of April. Designed by St. Croix businessman Warren Mosler , it was launched last May. However delays in Coast Guard testing kept the boat out of service for almost a year.
The long, narrow boat looks a little like a catamaran but sits on four hulls. The two short hulls and two longer hulls at the rear of the boat "fool the sea" into thinking it is a longer vessel than it is, creating a smoother ride, according to the boat's builder, Gold Coast Yachts president Richard Difede.
The one-way trip costs $50. The boat leaves St. Croix at 7 a.m. and 1 p.m. The turnaround is 10 a.m. and 4 p.m. from St. Thomas.
Harper said he had seen plans drawn up by Mosler to build a second ferry if the passenger demand is strong enough.