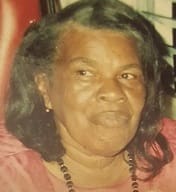 Edith Agatha Paris died on Wednesday, March 29, at Queen Louis Home on St. Thomas. She was 86 years old.
She is preceded in death by her daughter, Sonia Hodge; sisters: Martha, Mary and Dora Hodge; brothers: Milton and Leonard Hodge; grandchild, Hasheem Ford; and great-grandchildren: Darnell Paris and Darrell Paris.
Edith A. Paris is survived by her sons: Charlie Hodge, Clyde Paris, Terrance Paris and Dwedeny Paris; daughters: Ermine Hodge-Bell and Charen Paris; sisters: Iris Hobson, Yvonne Hodge, Sylvia Hodge-Brunswick and Maysie Hensley; brother, Basil Hodge; grandchildren: Diana Huggins, Elise Lewis, Alicia Paris, Jermaine Paris, Zaykeese Pant, Pamela Robinson, Desmond Hodge, Anthony Robinson, Nicole Bynum, NatashaHewlett, Dameon Walwyn, Mellynda Duggins, Rachida Maynard and Dwayne Paris; great-grandchildren: Akeem Paris, Jovanty Paris, Trevaughn Huggins, Deborah Huggins, Tirana Walters, Dequan Walters, Katana Walters, Shannon Lewis, Rhajeem Lewis and Zahaieda Lewis; and many other family and friends too numerous to mention.
Relatives and friends are respectfully invited to attend the first viewing from 5-7 p.m., Tuesday, April 18, at the Celestial Chapel of Hurley Funeral Home. The second viewing will take place at 9 a.m. followed by a funeral service at 10 a.m., Wednesday, April 19, at Christ Church Methodist. Interment will be at Eastern Cemetery, Smith Bay.
Arrangements are under the care of Hurley Funeral Home and Cremation Center of St. Thomas, St. John, St. Croix and Tortola.
For directions and online condolences, please visit us at www.hurleydavisfuneral home.com