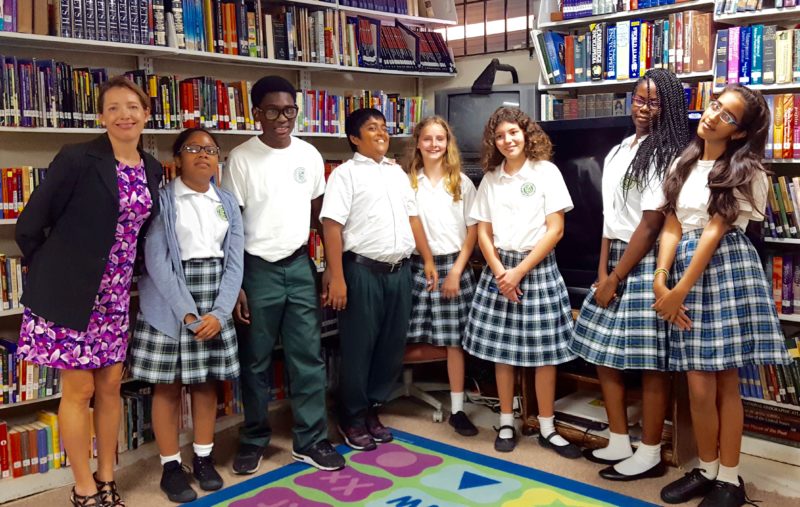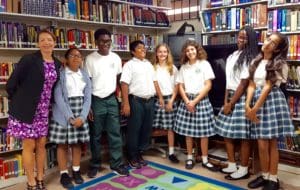 Once again the tiny team of computer whizzes of All Saints Cathedral School reached the semifinals in an international Cyber Patriot program.
Last year they sent an all-girl team which gave it minority status and thus reduced entrance fees. This year they let in the guys, who held up their end of the competition as the team scored in the semifinal of competition for the second year.
This is no small potatoes. The program is run by the U.S. Air Force Association, which hosts a National Youth Cyber Defense Competition annually. The team is coached by school librarian Rebecca Hoffart, who expanded the Virgin Island entries this year.
"Last September I co-hosted a Cyber Patriot Information Session at the University of the Virgin Islands," Hoffart said. "As a direct result, four teams from St. Croix joined the Cyber Patriot program, all competing at the high school level." "In the meantime, we added a high school team here at All Saints," she said "We had just three ninth grade students on that team, but they did very well for such a small group of students.".
However, the middle school team showed its stuff. "In the international semifinals round, our team earned a score of 140, placing them in the top 22 percent of all middle school Cyber Patriot teams on the planet," said Hoffart.
"This is an outstanding achievement for any team, but especially so for a small school in our geographic location. Only the top .5 percent (yes, point five percent) of teams go to the finals at the middle school level, so we will not be among those. But we are getting closer every year!"
Hoffart's heart is with the girls. "We don't have enough young women of ethnic diversity participating in programs like this," she said.
Asked whether the girls had seen "Hidden Figures," the current movie about three African-American women who worked for NASA in the early '60s, and felt a connection to the women, Hoffart brightened.
"The answer is yes, absolutely. One team member said that she would be the one programming the computer. Another girl said that she would be the supervisor who knocked down the colored bathroom sign. However, she used her engineering thinking and pointed out that if the Kevin Costner character had aimed not at the sign itself but instead went for the mechanism that connected to the wall, he would have gotten it down faster. She said she would have had it down in two blows!" And Hoffart had more news, including an award she had rather serendipitously won.
"Last school year I became aware of the interest in computer science displayed by one of our All Saints students, Kajal Gopwani, who was a 11th grader at the time," Hoffart said. "She won a Gold medal at the district STEAM Fair (Science Technology Engineering Arts and Math) for web site design. Her project was impressive and she volunteered to demonstrate her work at the International Women Information and Computer Technology Fair held last year at All Saints."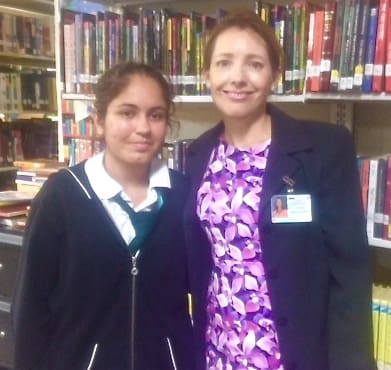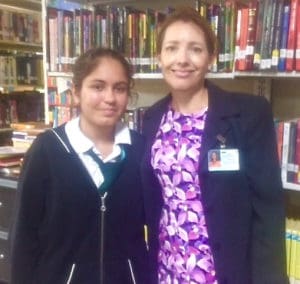 "Unbeknownst to me, Kajal had submitted my name for the National Center for Women and Information Technology, (NCWIT,) Georgia Tech's College of. Computing and State Farms award for the 2017 Puerto Rico & US Virgin Islands Affiliate Educator Award. And I won!" Hoffart is as excited as her students. "Of course I am ridiculously proud to be selected as one of 75 teachers nationwide for this honor. Furthermore, I believe Kajal and I are the first Virgin Islands residents to receive NCWIT awards."
Hoffart was recognized for her commitment to gender equity in computer science and her encouragement of women's interest and participation. Gopwani received an honorable mention for her web design work.
Gopwani has a web page dedicated to hidden talents for students she sees as shy or neglected who possess these talents, largely artistic, whom she mentors. Speaking to Gopwani, one has to bear in mind that she is a teenager, mature beyond her years. In her college applications, she is majoring in environmental science, rather than web design.
"I think I can be more effective in that field," she said. Gopwani is a versatile student, eager to explore her talents. Last summer she participated in the Junior Statesmen program at Stanford University. She hasn't decided on this summer's adventure yet; she is busy determining which scholarship she should select at a number of colleges.
And Hoffart isn't letting any grass grow under her this summer either. "This past fall I presented in an important national conference – the National Initiative for CyberSecurity Education. My topic was "Community Partnerships Increase Sustainability in CyberSecurity Education Initiative Programs.
"Following that conference, I was inspired to further my professional development in the area of CyberSecurity education and this December I received my certificate from the Computer Science Teachers Association (CSTA) as a certified Cyber Teacher.
"This summer I have been accepted to present at the annual CSTA conference and I am also hoping to be able to participate in this year's summer CyberCampVI program at the UVI campus," she said.
Hoffart is a dedicated, some would say old-fashioned, teacher in a highly technical field. She teaches 12-year olds computer coding, and she does it carefully, with compassion. She knows her students. It makes those of us of a certain age long for the classroom. Almost.