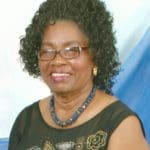 Althea P. Harris died on March 17.
A viewing will be held from 5-7 p.m., Thursday, April 6, at Turnbull's Funeral Home. A second viewing will be held at 8:30 a.m. followed by a funeral service at 10 a.m., Friday, April 7, at Frenchtown Evangelist Assembly. Interment will be at Western Cemetery No. 3.
She is survived by her sons: Armfield Harris, Colin Harris, Marlon Harris, Vadim Harris, Maurice Rabsatt and Marvin Rabsatt; sister, Annette Cleopatra Hendrickson; brothers: Denzyl Walwyn, Ishmael Queeley, Campbell Grey and Lyndon Grey; adopted daughter, Lisa Rose; grandchildren: Kimberly Harris, Tanya Harris, Zyna Harris, Jahmina Harris, Jamal Harris and Marlon Harris Jr.; great-grandchildren: Kaleb, Khejei, Pythiea, Mikayla Lambert and Savanah Harris; nieces: Nyla Grey and Denene Walwyn; great niece, Isryella Taylor Hendrickson; and nephews: DeShawn Hendrickson, DeVaughn Hendrickson and Nolyn Grey.
She is also survived by sisters-in-law: Irene Walywn, Sandra Grey and Tanya Grey; brother-in-law, Warren Hendrickson; nieces-in-law: Taisha Hendrickson and Christin Hendrickson; special friends: Elaine Fahie, Vanie Hackett, Hyacinth Hendricks, Margaret Rawlins, Rosetta Lewis, Millicent Christopher, Rita Adams, Eletha Palmer, Coleen Trellis, Beryl L. Innis, Deidra Gray, Brian and Angela Emmanuel, Symbert Tavernier (Smalls), Corine Bellot, Allegra Christopher, Joy Nesbitt, Jesus Arista and Sandra Garnett.
Professional Funeral Service are entrusted to Turnbull's Funeral Home. Telephone: 779-6565; e-mail: turnbullsfuneralhomevi@yahoo.com