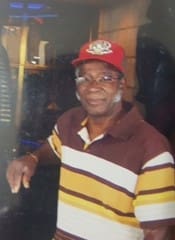 James Charles, better known as "Murphy" or "Jimmy," of St. Thomas, Virgin Islands, died on March 13. He was born in Bendal, Antigua, on October 11, 1937.
He preceded in death by his mother, Jane-Ann "Baby" Frederick; sons: Allingston "Ras I" Charles and Alston Charles; sisters: Leah Charles Anthony and Joan "Goldene" Allen; brothers: Steve Allen and Edward Allen; and brother-in-law, Rendelle Simon.
He is survived by his wife, Glendora Aaron Charles; sisters: Gretta Simon, Ernestine Allen Haywood, Edris Allen and Elaine Allen; brother, Roy Charles; grandchildren: Crystal Charles, Akeyjah Charles and Kaijah Charles; great-grandchild, Dyamond Edwards; stepchildren: Valencia Aaron Darden, Cecil Aaron, Julia Aaron and Debra Aaron; sisters-in-law: Jasmine Allen and Rozelle Allen; brother-in-law, Michael Haywood; and a host of nieces, nephews, other family members and friends.
The first viewing will be held from 5-7 p.m., Wednesday, March 29, at Turnbull's Funeral Home. A second viewing will be held at 10 a.m. and a funeral service at 11 a.m., Thursday, March 30, at Agape Church of God in Savan. The burial will be at Eastern Cemetery.
Professional Funeral Services are entrusted to Turnbull's Funeral Home Telephone: (340) 779-6565; e-mail: turnbullsfuneralhomevi@yahoo.com