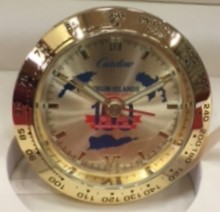 The Virgin Islands Transfer Centennial Commission and Cardow Jewelers have announced the arrival of the limited-edition VI Centennial 2017 timepieces.
The Centennial 2017 clocks and watches are beautifully crafted of stainless steel and feature Cardow's iconic three-island map and the Virgin Islands Transfer Centennial logo in raised enamel. The limited-edition timepieces will soon be collectors' items.
These clocks and watches are now available on St. Thomas at Cardow's stores (1 Main Street, Crown Bay Marina, the Cyril E. King Airport and the Ritz-Carlton). They are also on sale on St. Croix at Perfection Jewelers located in the Sunny Isles Shopping Center.
The timepieces are also available for online purchase at www.cardow.com. Within the next week, the timepieces will be made available for sale at www.vitransfercentennial.org