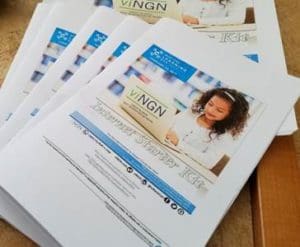 V.I. Next Generation Network Inc. (viNGN) encourages everyone to #LearnSomethingNew every day and has published a free e-book and guide to getting a business online: "Internet Starter Kit + 7 Step Guide to Getting Your Business Online."
The Internet Starter Kit was developed to distribute for Digital Learning Day, an annual event that was first launched in 2012 by Alliance for Excellent Education, which pays tribute to innovative educators. Digital Learning Day has grown into a national observance, with activities across the nation, both inside and outside of traditional classrooms.
The 24-page Internet Starter Kit is geared to moderate to advanced users. It is a handy and quick introduction to the Internet, e-mail, online safety, Web sites, blogs and social media. Links to the complete (and free) online technology and web design courses at GCFLearnFree and Khan Academy are included for those who would like to go beyond. The "Getting Your Business Online" guide provides a 7-step flowchart for planning a Web site or blog for hobbyists and entrepreneurs.
For less experienced users, viNGN offers the "Absolute Beginners Computer Lab," which is an introduction to the mouse and keyboard, computer and Internet basics, e-mail, and Internet safety featuring quick videos from various sources and the main points behind core computing concepts.
"We have been finding that people who do not think they are capable of using a computer actually need help using the mouse and keyboard more accurately," said Anita Davis, viNGN outreach leader. "For these users, access to "The Library Networks New User Tutorial" are provided. Perfect practice makes the difference!" The tutorial is available in English and Spanish versions.
Students who pass the Absolute Beginners Computer Lab exam with a score of 80 percent or better receive links to free typing, technology and professional courses including Microsoft Office training. "These are derivative works, containing some information that exists already on the Internet," said Davis. "We are just eliminating a lot of the guess-work – so you can get started learning right away."
For assistance in locating specific free online courses or to be kept informed of upcoming training opportunities, contact Anita Davis at viNGN at 715-8581, ext. 2244 or e-mail adavis@vingn.com.