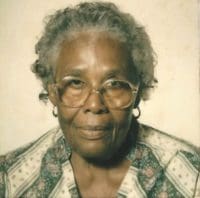 Sylvina Dupigney died on St. Thomas on Feb. 14 at The Queen Louise Home. She was 99 years old.
She is survived by her sister, Mary Lucina Dore, who resides in Nevis; nephews: Geoffrey Dore, wife Ann and family residing in Canada; William Dore, residing in Nevis; Terrance Dore, living on St. John; Fenwick Prentice, Halley Prentice, Stephen Prentice, Ishmail Prentice and Theodore Prentice — all in the United States; and nieces: Risa Dore and family living in Canada; Patsy Hanley, living in Nevis; and Val Liburd, residing in St. Kitts.
She is also survived by cousins: Hillary Lewis and Angella Duporte in Canada, Imelda Simmons on St. Kitts; as well as many other nieces, cousins, great and great-great nephews and nieces too numerous to mention; relatives and friends: Henry Martin, Spencer Prentice, Kenneth and Judith Hobson, Ira "Cypher" Martin, Spencer Stapleton Jr. and family, and many others; and many other friends and relatives too numerous to mention.
Relatives and friends are respectfully invited to attend the viewing at St. Andrew's Episcopal Church at 9 a.m., Thursday, March 2, with the service immediately following at 10 a.m. Interment will be at Western Cemetery No. 3.
Arrangements are under the care of Hurley Funeral Home and Cremation Center of St. Thomas, St. John, St. Croix and Tortola.
For directions and online condolences, please visit us at www.hurleydavisfuneral home.com