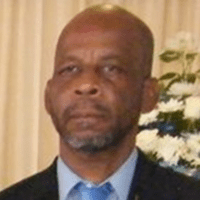 George Gutliffe Matthias of St. John died Jan. 27.
A viewing will be held at 10 a.m. followed by a funeral service at 11 a.m. on Saturday, Feb. 18, at Cruz Bay Baptist Church. Interment will be at Calabash, St. John, V.I.
He is survived by his father, Cornelius Matthias; brothers: John Matthias, Obed Matthias, Nigel Matthias, Douglas Matthias and Dave Matthias; sister, Ovilda Matthias Lake; nieces: Gwendolyn Ned, Rosalyn (Rosie) Virola, Ebony Matthias, Adriana Brown, Keva D. M. Matthias and Malagros D. Cervantez; nephews: Quinton Matthias, Lavel Lake, David Matthias and Nigel D. Matthias; great nieces: Genesis Virola, Kiara Virola, Janelly C. Matthias, Emily Matthias, Sofia Matthias, Shaniah Matthias, Diamond Matthias, Constance Matthias, Quenisha Matthias and Jaddne Ned; great nephews: Damian Cervantez, John Henry C. Matthias, Devonte Matthias, Jordan Matthias and Joseph Ned; and brother-in-law, Daniel Lake ("Easy Boy" Lake).
He is also survived by sisters-in-law: Mary Matthias, Minerva Matthias, Merle Matthias and Lilia Matthias; aunts: Joyce Jacobs Kanu, Janet Dawkins and Ruth Poag; uncles: Alston Jacobs, Raymond Frett and Hugh Bryan; aunts-in-law: Rose Jemison, Ella Jacobs and Bea Frett; uncles-in-law, Isaac Poag; special cousins: Greta Samuel, Alberic Jemison Jr. and Timmy McBean, Kurt McBean, Henry Powell, Alvis Christian and Celise McBean Kean; special friends: Glenville Norford, Andy Fredericks, Hubert Fredericks, Patty, Sparrow, the Matthias family, the Petrus family, the Mc Bean family, the Fredericks family, the Smithbay family; and other family and friends too numerous to mention.
Professional Funeral Services are entrusted to Turnbull's Funeral Home Telephone: 779-6565; e-mail: turnbullsfuneralhomevi@yahoo.com