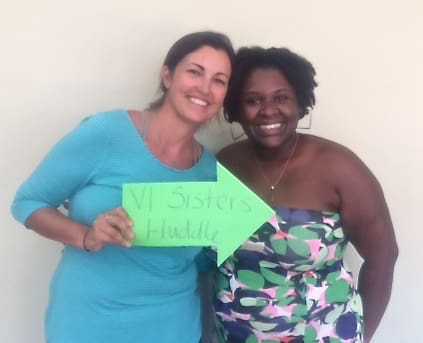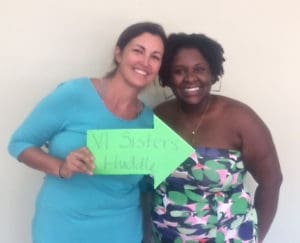 A group of 20 diverse women – black, white, young, old, retired, professional, two who are new to the island and several who were born here and are longtime residents – spent Saturday afternoon in a Crown Bay Marina office in a "Huddle."
No, it's not like a yurt; it's what some women all over the globe were doing – attending a strategy session called a Huddle, under the auspices of the national Womens' March organization.
The women make up the newly minted VI Sisters, a group whose existence is a natural outgrowth of the Womens' March, locally, nationally and globally.
"The Womens'March was the moment; we are the movement," the group's Facebook page states.
A tacit understanding links the group: "It's not OK to do nothing" was the way one woman voiced it. The women were clearly eager to get busy taking collective action. It's the balm they need to fight for their rights, and the rights of all people.
They take their action according to the national guidelines of the Womens' March organization's dictate: 10 Actions 100 days. The first action was the initial Women's March gathering together more than one million women in Washington D.C. and as many as five million worldwide.
Its mission: "We stand together in solidarity with our partners and children for the protection of our rights, our safety, our health, and our families – recognizing that our vibrant and diverse communities are the strength of our country. In the spirit of democracy and honoring the champions of human rights, dignity, and justice who have come before us, we join in diversity to show our presence in numbers too great to ignore, and to define a set of actions and strategies that our groups will pursue in the coming weeks and months."
Saturday's Huddle was one of 4,712 held worldwide, according to the Womens' March website.
One of the younger women in the St. Thomas Huddle volunteered "It's a great time to be a woman. To voice opposition, to be a part of something." She was obviously not around in the Vietnam era. Protest is something foreign to many young people today, one of the older members observed, adding, "They'll soon learn."
The group's second action was to mail post cards to senators and members of Congress nationally. The group made signs in lieu of postcards. They held an "Enough is Enough" demonstration Jan. 26 outside the Legislature, the night of Gov. Kenneth Mapp's State of the Territory address. It was the first step in a move to create positive change on St. Thomas, they said.
Organizer Sarah Haynes-Brin said Saturday the Huddle is the third of the actions taken thus far.
VI Sisters is an inclusive grassroots organization that believes in collaborating, creating and impacting change nationally and locally. The organization welcomes new members. Nia Hazell, is the contact person at 340 344 4603.
Hazell, Barrie Olson and Haynes-Brin are the organizers of the fledgling group, which had a sort of serendipitous beginning. Hazell had posted a plea on her Facebook page for help in starting a Womens' March locally, and Haynes and Olson answered. They subsequently met at Scoops & Brew in Crown Bay Marina, where they found they recognized one another as regulars there.
They organized the march in five days, and VI Sisters was subsequently launched as a natural outgrowth of all that energy.
"We saw we couldn't just let that go," Hazell said.
Hazell doesn't waste time. She describes herself as a "life long learner." She graduated from Champlain College in Burlington, Vermont, with a bachelor's degree in environmental policy. It is her aim to get a job in that field to help Virgin Islanders become more aware of tending to the environment.
The organization's next meeting will be posted on the VI Sisters Facebook page.
The national organization webpage hhtps//www.womensmarch.com/.