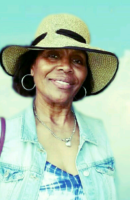 Norma Leona Romney died Jan. 24 on Staten Island in N.Y.
Norma was a retired registered nurse with the Board of Education.
She is preceded in death by her parents: Louis and Elouise Parrott; and her brothers: Rhudel, Raymond and Roy.
She is survived by her sisters: Hiliare, Marcie, Rosalia, Rosalind and Ritza; brothers: Rafael and Ron; daughters: Sherry, LaVerne and JoAnne; grandchildren: Ronald L. Lofton Jr., Rachard W. Lofton and Tyrone S. Husbands Jr.; extended family members: the Enrique family, Ronald Lofton Sr. (son in-law), Wilfred Foy, Tyrone S. Husbands Sr. and Antonio Bryan; as well as numerous friends and relatives.
Relatives and friends are invited to attend the service on Saturday, Feb. 11, at Wesley Methodist Church, St. Thomas, V.I. The viewing will be held at 9 a.m. followed by a funeral service at 10 a.m. Interment will be at Western Cemetery.
Professional Funeral Services are entrusted to Turnbull's Funeral Home Telephone: 779-6565; e-mail: turnbullsfuneralhomevi@yahoo.com