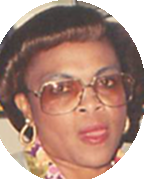 Nesta Duggins-Edinborough died on Jan. 10. A first viewing will be held from 5-7 p.m., Thursday, Jan. 26, at Turnbull's Funeral Home. There will be a second viewing at 9 a.m. followed by funeral service at 10 a.m. Friday, Jan. 27, at Christ Church Methodist in Market Square. Interment will follow at Western Cemetery No. 3.
She is survived by children: Venus Edinborough, Clyde "Junie" Edinborough Jr. and Valencia "Val" Edinborough-Petersen; grandchildren: Michael, Marcus and Jac'quan Hendricks, Alston Venzen, Jamoi Edinborough and Yohansae Petersen; brothers: Alton Duggins and Albert Duggins; uncle, George Edmond Duggins; and adopted children: Joseph Cranston Jr., Emile Kitnurse and Maurice Plaskett.
She is also survived by special friend, Auckland A. Semper; godchild, Raphael Harris; close friends: Mary Rawlins and Mary D.; Special family and friends: Nolma Eddy, Gloria Bonelli, Joselyn Joseph, J. Nicole Smith-Thompson and Kenneth Joseph; caregivers: Martha Daniel and Julie Gilliette; extended families: Warner, Thompson, Rawlins and Duggins families; as well as many other cousins, relatives and friends too numerous to mention.
Professional Funeral Services are entrusted to Turnbull's Funeral Home; Telephone: (340) 779-6565.