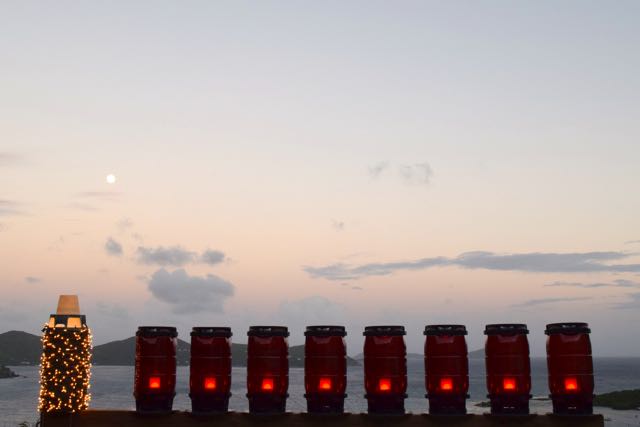 Have you ever heard of Chrismukkah? It's a pop culture term that refers to the merging of Christianity's Christmas and Judaism's Hanukkah, sometimes used by interfaith households to indicate their celebration of both holidays.
This year, the first night of Hanukkah, which runs for eight days, happens to fall on Christmas Eve. To honor this happy coincidence, St. John artist George Hollander decided to make his annual holiday light sculpture reflect both traditions.
Hollander's newest light sculpture is in the shape of a contemporary menorah, the traditional symbol of Hanukkah, which bears eight lights (one for each day of the holiday), and a "helper light" which is used to light the other lights.
On this holiday sculpture, the helper light, or "shamash," is decorated to resemble a Christmas tree.
The sculpture, which measures 12 feet long and is illuminated every evening throughout the holidays – "or until it blows over," Hollander said – can best be observed from the sea as one enters Coral Bay Harbor by boat. But it can also be seen from the road on Route 107 near Shipwreck Landing.
"Just look up the hillside," said Hollander. 'It's located at an elevation of 175 feet."
Hollander said he enjoys using recyclable materials in his work. The lights on "Menorah" are made from empty plastic beer kegs from the Tap Room, which serves draft beers made by St. John Brewers. His 2009 light sculpture "Spirit" was made out of a buoy. "Goodyear" was constructed from tires.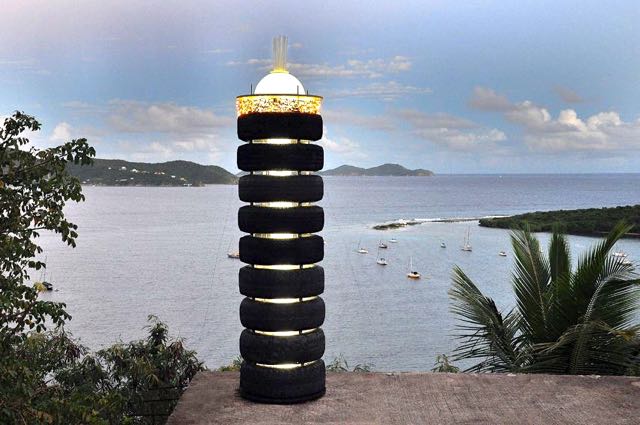 Each year's sculpture evokes a different feeling and challenges Hollander in a different way. "I dream about it. I see pieces of it in my dream. Then I have to think about how it's made and the creative process starts." Hollander said the surge of creativity "keeps me in the present moment."
"All artists are like that," he said. "That's what they enjoy."
Most of Hollander's holiday light sculptures tend to be more abstract, but this year he has decided to celebrate his Jewish roots.
"The original menorah was made of gold and stood intact for more than 400 years, until the first temple in ancient Israel was destroyed in 586 B.C.E.," wrote Hollander in his explanation of the project. "The second temple stood for an additional 400 years, till the Romans destroyed it in 70 B.C.E."
Hollander said during Hanukkah, "The menorah is lit from right to left. Each night, for eight nights, a candle is lit using the helper to light it. The first night one, then two are lit, then three, etc. This menorah, the one I built for the holidays uses LED's and multiple strings of Christmas lights for the helper. Taking artistic license, I decided to light it entirely."
Hollander said he sees "the contemporary menorah as a cautionary tale with the 'helper' as a hope, for a better tomorrow."
Although Hollander does not practice Judaism in the way his parents did, his Jewish roots run deep. "My parents are Holocaust survivors from Poland," he said. "My mother was in Auschwitz." After the war his parents migrated to Germany, where Hollander was born, and then moved to New York in 1948.
The family first settled in a cold-water flat across from where the United Nations was being built and eventually moved to the Bronx. Hollander was sent to Hebrew school, but he ended up attending public high school and then studied engineering at Hunter College for three years. "My mother was orthodox, and she wanted me to be a rabbi," he said.
Hollander left school and became "a vagabond," arriving on St. John with his wife Laura in 1977. "On our third day here, Laura got into a conversation with Malvene Sewer," said Hollander, and within a few days they met again in Albert Sewer's store in Cruz Bay to purchase a piece of property from the Sewer family.
The title for the property took 10 years to clear. In the meantime, Hollander moved back to New York, but he built a shack and then a cottage on his property on St. John that he used during vacations.
Hollander became a designer and contractor, working on residential and commercial properties in the New York metropolitan area. But in 1993, when he decided "to build my real house," he and Laura moved to St. John permanently.
Once he was on-island full time, he began experimenting with sculptures that lit up. "I never considered myself an artist until I came here. I hung out with artists in New York City. This place allowed me to spread my wings," he said.
Hollander began by copying parts of other designers, favoring artists who reflect "an eastern bend." He particularly admires the work of Japanese artist Arata Isozaki, but he now considers his own work as having a unique style.
He said he learned that, "If you can complete a design, and you turn it upside down and it still works, you've got something."
Hollander's pieces are now on display exclusively at Kimberly Boulon Fine Art Gallery at the Marketplace in Cruz Bay.