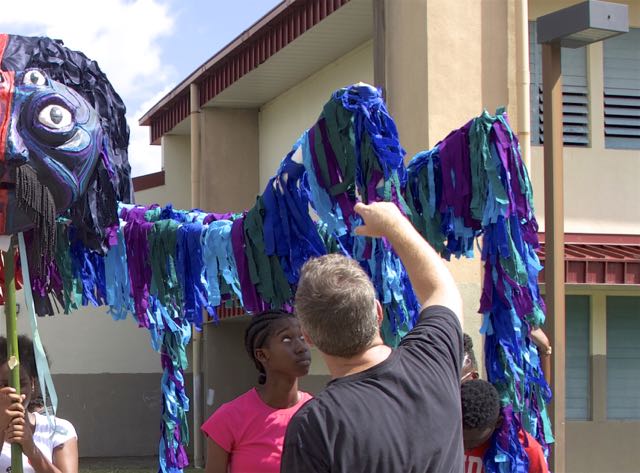 St. Croix students will bring literacy, culture and creativity to St. Croix's Children's Parade on Jan. 6. The division will debut one-of-a-kind giant and movable papier mâché puppets that depict the animals and characters of popular books from the 2015 and 2016 Governor's Summer Reading Challenge.
"I truly believe reading should be fun and educational for our students and they should be able to connect books with their life inside and outside of school," Education Commissioner Sharon-Ann McCollum said in a statement. "This troupe brings the characters to life in a way students could interact with them at one of our most important cultural events, the Children's Parade," she said.
McCollum said she had the notion of using the books of the widely popular and successful Governor's Summer Reading Challenge because the characters are easy to identify and they were written by local and Caribbean authors.
The Education Department's Cultural Education Division contacted several puppeteers who create moveable puppets similar to those seen on the Lion King Broadway show. Hand Puppet Intervention, a North Carolina puppet theater, was a perfect match for McCollum's vision, according to the department.
They sent the Hand Puppet Intervention director Donovan Zimmerman samples of the books and characters and, in November, he took up a two-week residency in St. Croix to share his craft with art teachers and students. Zimmerman reportedly said he was excited to work on a carnival project in the Caribbean, the first for his company.
The giant puppets were created at the St. Croix Educational Complex under the supervision of Valrica Bryson, director of cultural education, with the guidance of SCEC art teacher Danica Davis. Educational Complex students constructed the puppets, while Zimmerman was responsible for sculpting and painting. Zimmerman also taught the students and teachers how to operate and care for the puppets.
Students across St. Croix created smaller puppet characters under the supervision of their art teachers who attended sessions with Zimmerman.
In an effort to support local businesses, the schools bought materials to create the giant papier mâché puppets at stores such as Divi Divi Fabrics, Home Depot, K-Mart and The Frame-Up. Most of the cardboard and newspapers used for the project were donated by the St. Croix Avis and other local businesses.
The Department of Education's anti-litter mascot, Squeaky, will also make its debut at the parade.