Members of the St. Croix District Board of Elections on Tuesday redid what 800 voters did on Election Day to confirm that election results were accurate.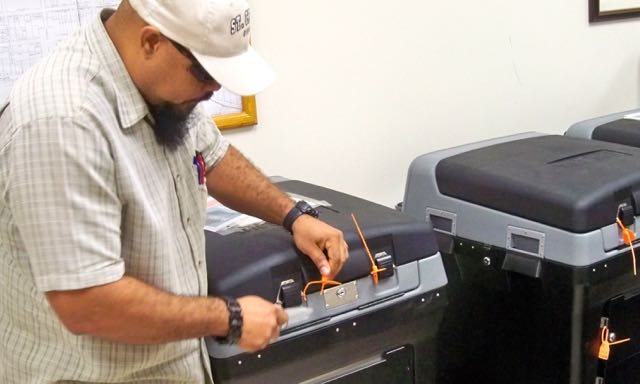 In the random audit, Lilliana Belardo de O'Neal, chairwoman of the board, counted spoiled ballots from three polling stations.
After the machines were cleaned from those polling stations, Glenn Webster, secretary of the board, reinserted ballots from the Claude O. Markoe polling station; board member Roland Moolenaar reinserted ballots from Florence Williams polling station; and Barbara Jackson McIntosh reinserted ballots from Eulalie Rivera Station B.
Although the official confirmation of the results of this audit won't be available until Wednesday, observation by the Source indicates that the original counts were valid.
McIntosh said, "We are doing this audit to make sure the machines did what they were supposed to do."
The polling places audited were chosen at random – one from the east end of the island, one from the west end of the island and one from center island.
Seals were broken from each ballot boxes, with witnesses present, and then the ballots were again fed into the machines for the recounts.
For example, Moolenaar recounted the ballots cast at Florence Williams polling station. The original count showed 291 ballots counted. When he inserted the ballots the count was 286 but five ballots refused to be counted. Those ballots were the victims of the same problems that printers have – paper jams.
Examination of those five ballots and what they showed of various candidate counts, when added in, appeared to confirm that the machines were making accurate counts.
Before the counts were made, tapes showing the election night counts were printed and members of the board compared those tapes with their new counts and then added in the ballots that were not read by the machine. Ballots not read by the machine in the audit could have been torn or crumbled or the wrong type of pen using in filling the bubbles may have been used.
McIntosh said, "If our numbers don't match, we have a problem."
Moolenaar said, "This is an independent exercise confirming what the machines counted."
The Source observed no inconsistencies from the original count and the audit.
Absent from the recount were board members Raymond J. Williams, Lisa Harris-Moorhead and Adelbert "Bert" M. Bryan
The audit was conducted at the St. Croix Elections System office at the Sunny Isles Annex.