Nonprofit medical support organization St. John Rescue received a substantial holiday gift at this year's annual Christmas tree lighting ceremony in Cruz Bay: a new emergency vehicle.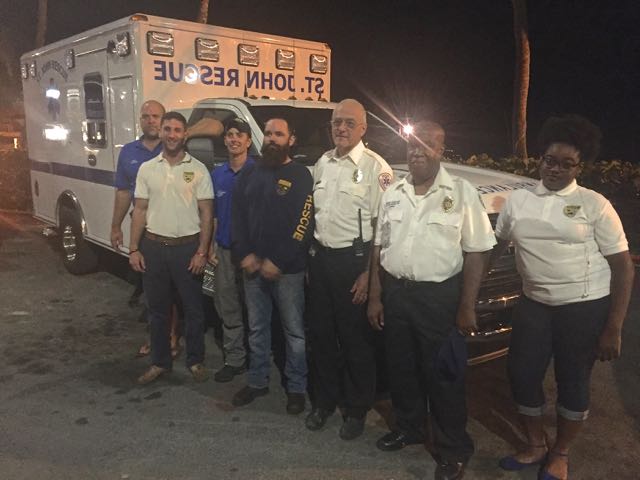 Earlier this year, the V.I. Territorial Management Agency approached St. John Rescue about how some of its Homeland Security federal funding might benefit those working in emergency medical care on St. John.
At the tree lighting ceremony, Gov. Kenneth Mapp and VITEMA Director Mona Barnes presented the all-volunteer organization with the vehicle, a $126,663 Type 1 ambulance.
St. John Rescue training director Bob Malacarne said the ambulance is the fourth vehicle in the organization's fleet. One of St. John Rescue's existing ambulances that services Coral Bay, he said, is not functional. The new vehicle will be put to use immediately to bring faster service to that side of the island.
"For now it's primarily about Coral Bay and getting Coral Bay the emergency services it needs," Malacarne said.
St. John Rescue, active since 1996, works alongside St. John's EMS, police, fire, national park and health clinic personnel during emergencies.
"Rescue has been great to us on St. John. No matter what you do, where you go, they're always on the scene," said St. John Administrator Camille "Juju" Paris.
According to Barnes, the new ambulance is an important "step toward improving medical services and the critical transportation needs of the island."
"After closely assessing the needs of first responders, we reprogrammed funds to enhance medical transportation services on St. John," she said.
According to a press release issued by VITEMA in December, the agency was also able to secure Homeland Security grant funding to purchase medical supplies and equipment for Water Island Rescue.
VITEMA will deliver approximately $21,000 in medical supplies to supplement Water Island Rescue's current stock this month, the release said. Those supplies include emergency oxygen kits, a resuscitator, trauma bags, extrication device, splints and a portable generator to be used at response sites.
VITEMA is also working to secure a back-up generator for the Water Island firehouse, which serves as a distribution point during disasters.