With vendors and bands stretching from Emancipation Garden to near the Market Square, this year's Miracle on Main Street offered up everything from local treats and great deals to fun entertainment for the crowds that packed into Charlotte Amalie for the event.
Downtown was dressed up for the evening, with lights overhead brightening up the streets and cheery holiday music echoing all around. School steel pan groups were set up every few blocks and, for most of the night, were surrounded by large groups of residents that danced to their songs.
The community added to the atmosphere as residents celebrated in red, white and green outfits, or bells and festive Santa hats that were sometimes lit up with twinkle lights.
In many areas, storefront windows were decorated to attract customers, bringing in the feel of big department stores on the mainland.
On the waterfront, for example, Le Gab owner Erika Henderson even set up a photo booth outside her front door, complete with a red carpet and a huge black and gold photo booth backdrop that was set against the gold and silver dresses in her window.
"It's our one year anniversary and we are having a special winter display with a photo area that we hope will urge customers to come out and stop," Henderson said. "The year so far has been okay, the slow season was a little scary, but everything is picking up now and we're very excited about tonight and how it's going to go. This is always such a great event and it's nice to see so many people coming out to support the stores and vendors."
Other stores, such as Ballerina Jewelers on Main Street, also used some new strategies to get residents shopping. With a new marketing director, Nicole Jackson, on staff, Ballerina was advertising its deals early on Facebook and encouraged customers to take advantage of a free bar while they shopped.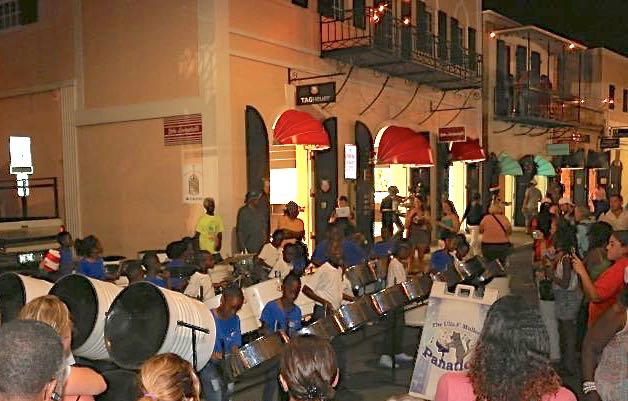 "We're seeing a nice flow of people so far," store director Giresh Mirpuri said. "Last year was a great year, so we're hoping to have a similar response this time around and, with the parking situation downtown being what it is, this is always kind of a nice opportunity for people to do their shopping."
Mirpuri said that the store was also donating a percentage of its sales this year to the Family Resource Center, which also gave residents the "extra push" to come in and shop while giving back to the community.
"The local market is always a great market and it's something we haven't really optimized much in the past, but more than just a sales approach, we wanted to just find a way to give back to the community and that's really what we're focused on this year," he added.
Giving back was also the mission of the Salvation Army group that was set up on the waterfront Friday night. With volunteers ringing bells and manning the red donation kettles, the Salvation Army and Moravian Church's brass bands also helped to draw residents in.
"The Salvation Army is on this street corner on St. Thomas as they are everywhere throughout the world this Christmas season," said attorney Tom Bolt, who sits on the organization's advisory board. "We've served 35,000 meals on St. Thomas alone this past year and now we're trying to help those who wouldn't have a Christmas without the Salvation Army."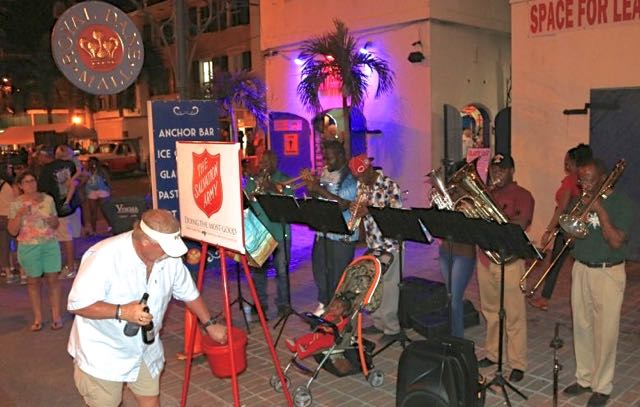 The Salvation Army's new regional director for the Virgin Islands, Capt. Kevin Bryan, added that that the organization was focused Friday night on "bringing miracles to families" that are struggling this holiday season.
"We want to bring hope," he said.
As the brass bands performed, traffic continued to flow freely on the waterfront, stopping only for the residents that were crossing the street to line up on the apron, waiting for the annual Lighted Boat Parade to start. Families sat on the sidewalk near the water, some holding up babies or grabbing on to children that ran too close to the edge.