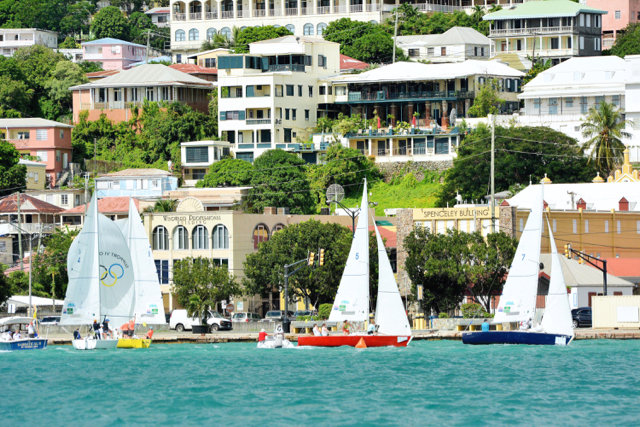 Olympic match racing star Renée Groeneveld and her Dutch team won the Carlos Aguilar Match Race in the waters off St. Thomas, their first-ever Women's International Match Racing Series event.
The four-day competition concluded Sunday.
The Dutch sailors – Groeneveld, Annemieke Bes, Lobke Berkhout and Mijke Lievens – defeated the USA's Stephanie Roble's Epic Racing 3-0 in the final of the CAMR, presented by the U.S. Virgin Islands Department of Tourism, and the fifth and final event of the 2016 WIM Series.
By reaching the final, the American's secured the runner-up spot on the 2016 Women In Match Racing Series, according to the sponsors.
"Everything fell into place for us and I'm really happy to sail so well together with my team," Groeneveld said.
After just a short postponement Sunday morning due to very light breeze, principal race officer Darcy Cook got the racing going in St. Thomas' Charlotte Amalie harbor. Groeneveld and Roble both continued their winning streaks, which started Saturday afternoon, winning their semifinals 3-0.
Groeneveld lost only two matches during the whole event, raising the question of how much Roble could capitalize on her local knowledge, having participated in many CAMRs over the last few years and finishing as the runner-up in the 2015 event.
"The starts were tricky because along the shore there wasn't a lot of breeze, so we had to try to keep the boat going and going," Groeneveld said. "To win the start and pick the right side was the key today, and I think we did a really good job in the last half minute before the start, to achieve that. Then we had good teamwork, good spinnaker sets and drops, and it was good fun too. The flow in our boat was the best."
The 2016 WIM Series kicked off with the Helsinki Women's Match in Finland in June, followed by the Lysekil Women's Match on the west coast of Sweden in early August. The World Championship and the Buddy Melges Challenge in Sheboygan, Wisconsin, was held in September, followed by October's Busan Cup Women's International Match Race in Korea.
WIM series manager Liz Baylis called the CAMR in the U.S. Virgin Islands the "most perfect way" to conclude the fourth WIM Series season.
"As I said in the beginning of the week, there is nothing better than finishing the 2016 WIM Series in paradise!" Baylis said.
The Virgin Islands Sailing Association is the organizing authorities for the CAMR, named for the late Carlos Aguilar, an avid sailor. Sponsors for the CAMR include the U.S. Virgin Islands Department of Tourism; Heineken and Captain Morgan, distributed by Bellows International; Yacht Haven Grande; K3; International Capital & Management Company; Auven Therapeutics; John and Claire Foster; XO Energy; the Prior Family Foundation; Ballerina Jewelers, St. Thomas and St. John; AH Riise, Official Rolex Retailer, U.S. and British Virgin Islands; Self Insurance Consultants, Inc.; and VINow.com
Overall Results – 2016 Carlos Aguilar Match Race
(Skipper, crew, country, WIM Series points, prize money in USD):
1. Renée Groeneveld, Annemieke Bes, Lobke Berkhout, Mijke Lievens, NED, 25, $2,500
2. Stephanie Roble, Maggie Shea, Elizabeth Shaw, Janel Zarkowsky, USA, 22, $2,000
3. Anna Östling, Karin Almqvist, Linnéa Wennergren, Annie Wennergren, SWE, 20, $1,500
4. Caroline Sylvan, Malin Holmberg, Louise Kruuse Af Verchou, My Karlsten Sfiris, SWE, 18, $1,200
5. Nicole Breault, Eliza Richartz, Sarah Lihan, Sarah Suhich, USA, 16, $1,000
6. Josefine Boel Rasmussen, Trine Bentzen, Lærke Nørgaard, Joan Vestergaard Hansen, DEN, 14, $900
7. Pauline Courtois, Maelenn Lemaître, Bérénice Delpuech, Juliette Le Friec, FRA, 12, $800
8. Antonia Degerlund, Carla Westersund, Daniela Rönnberg, Lisa Gerkman, FIN, 10, $700
9. Johanna Bergqvist, Ellinor Hansson, Johanna Thiringer, Nora Nyborg, SWE, 8, $500
10. Morgan Collins, Julia Wiesner, Mimi Roller, Elleanor Wells, USA, 7, $400
11. Linnea Floser, Hanna Ericksson, Sara Edholm, Raisa Räisinen, SWE, 6, $300
12. Sandy Hayes, Cindy Olsen, Sarah Enwright, Marcy Lake, USA, 5, $200
Results in the Final:
Renée Groeneveld, NED – Stephanie Roble, USA, 3 – 0
Results in the Petite Final:
Anna Östling, SWE – Caroline Sylvan, SWE, 2 – 0
Semifinal results:
Renée Groeneveld, NED – Caroline Sylvan, SWE, 3 – 0
Stephanie Roble, USA – Anna Östling, SWE, 3 – 0
Overall Results in the 2016 WIM Series
(Skipper, country, WIM Series points, prize money in USD):
1. Anna Östling, SWE, 95, $25,000
2. Stephanie Roble, USA, 76, $15,000
3. Renée Groeneveld, NED, 73, $10,000
4. Camilla Ulrikkeholm Klinkby, DEN, 68
5. Caroline Sylvan, SWE, 66
6. Pauline Courtois, FRA, 60
7. Nicole Breault, USA, 26
8. Katie Spithill, AUS, 25
9. Lucy Macgregor, GBR, 22
10. Anne-Claire Le Berre, FRA, 22
11. Marinella Laaksonen, FIN, 21
12. Claire Leroy, FRA, 20
13. Antonia Degerlund, FIN, 20
14. Lotte Meldgaard, DEN, 18
15. Johanna Bergqvist, SWE, 18
16. Samantha Norman, NZL, 14
17. Sanna Häger, SWE, 14
18. Diana Kissane, IRL, 14
19. Alexa Bezel, SUI, 12
20. Rikst Dijkstra, NED, 12
21. Elizabeth Shaw, CAN, 8
22. Susanna Kukkonen FIN, 8
23. Morgan Collins, USA, 7
24. Linnea Floser, SWE, 6
25. Milly Bennett, AUS, 6
26. Gyeong Jin Lee, KOR, 5
27. Sandy Hayes, USA, 5
28. Sanna Mattsson, SWE