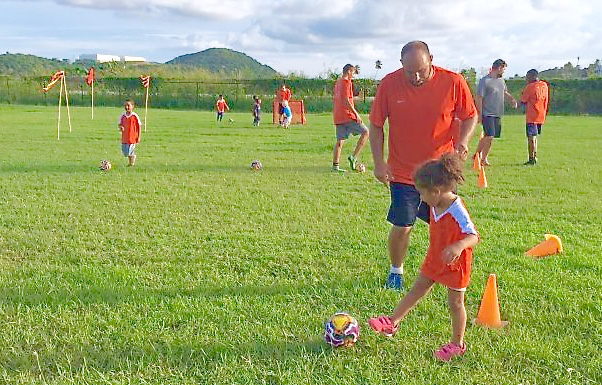 After being told that he was too small for baseball or football, Joseph Limeburner spent his younger years focused on soccer. Now, as a coach in the Virgin Islands, he is respected at home and abroad not only for his credentials, but for his skill and his philosophy for teaching the game.
Now the athletic director and soccer coach at All Saints Cathedral School, Limeburner is may best be known for his coaching within the local soccer club, Laraza, and developing athletes who have gone on to play at a national and collegiate level. The club is divided into levels by age and, backed by the club's board, recently added an under-six youth program.
With the addition, Limeburner, along with the other Laraza coaches, gets to see upward of 200 players, ages 4 to 16. While the work is hard, he couldn't be happier.
"I love seeing the kids accomplish something that they were never able to do before, but I think probably the biggest thing for me is creating a safe environment for any youngster no matter their color, background, race or economic status," Limeburner said. "It's about getting them off the street and learning a life skill, because soccer is a life skill – it has health, it has everything involved – and we're giving kids a chance to come out and play. And, it makes me feel good that I'm doing something for my community."
While Limeburner grew up in Maine, he has considered the Virgin Islands home for decades. He said he first came to the territory in 1995 and met his wife at Sapphire Beach and, "I've been here ever since."
"I feel like this is home," he said. Before moving onto coaching, Limeburner played on the V.I. national soccer team for a little more than 12 years, but hung it up at age 37. Limeburner said retirement didn't come easy because of how much he loved the sport, but the upside is that he now loves coaching even more and how much he has been able to develop Laraza, particularly on the youth programs side.
"If kids learn at an early age, yes, they are going to be more advanced than the average student starting at nine or 10," Limeburner said. "By giving a kid confidence, they love the game more, but if you're just starting out at age 10 or 12, your confidence level is low and it's hard to find any kid in that group that says 'I love soccer,' because they're struggling a bit. If you start them out early, they are going to be having fun, but at the same time they work."
Limeburner has put this philosophy to the test with the Tangerines, a four-to-seven group of youngsters that come out late Saturday afternoons to play with the rest of the club at the University of the Virgin Islands field, which has been Limeburner's coaching grounds for at least the past 10 years.
"The Tangerines program was something that we saw that as needed, since there are a lot of kids out there that don't want to go out and do drill after drill, but would instead like to go out, have a good time, play with their friends, meet new people and have an experience."
The quality of that experience is what will propel the students to continue within the club. After teaching the younger players the basics, Limeburner said, the next step is real development and making sure his students have as many opportunities as possible to play competitively.
"The goal is to get kids up through each developmental age and be able to have a shot of furthering their education through soccer," Limeburner said. "We have four boys now that are playing at college level, including one young boy that went to Eudora Kean that I've coached for many years and his team is undefeated in their conference and waiting to see how they do heading into nationals. He's one of those youngsters that really didn't have much growing up and it was a pleasure to try to get him into a college, and if it wasn't for the club, he wouldn't have had the opportunity."
Marketing his players has also become a priority for Limeburner. Once they are able to show their skills off-island, they have a better shot at playing on the college level. Last year, the club was able to take 100 students to Puerto Rico for a tournament, and Limeburner said he and the Laraza board hope to add 75 more this year in hopes of giving them more exposure.
"On the men's senior team, we had four boys that just went to colleges and they all showed very well, so they're all looking at high level schools (colleges) because of soccer," Limeburner said. "And the truth of the matter is, we have to market these children every chance we get because down here, our boys and girls are playing all the time, year round, while stateside they have seasons, so if they go up there and catch the opponents when they're rusty, they will show well and have a better shot."
With the club growing from 20 to 200 kids in just a few years, Limeburner said he and the program have shown they are effective. The problem now, he added, is having enough competition locally to keep the players on the field.
"Doing something like the club, it's a lot of investment," Limeburner said. "I don't get paid anything, or board doesn't get paid anything and everyone still has their jobs. To give up the amount of time that we do takes a lot of dedication and it's really a challenge, I think, for other clubs to make the investment."
Limeburner said the club will start to travel more this year for play, but said that he would also try to dedicate time to helping more clubs get their youth programs off the ground.
"We just have to step it up," he said. "I recently coached the U17 (under 17) on the national side and 90 percent of the boys on the team are from our club. That means we are doing good things. So, there's an advantage to helping other clubs. Everyone has to do what they can to help the kids and teach them something they can really love, otherwise, they will never get the level where they can be really competitive."