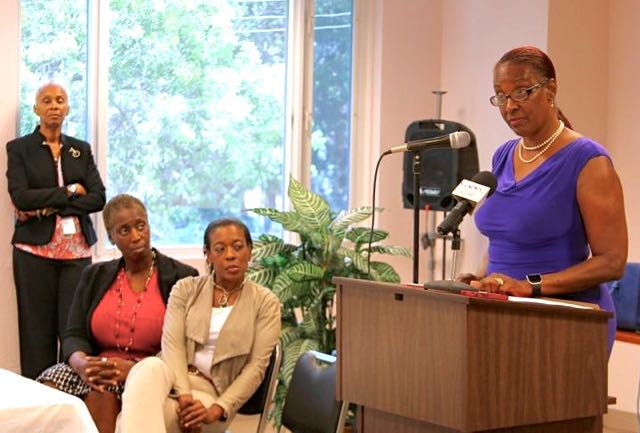 While certain issues continue to play out in court, a demand from the federal government to move residents at Sea View Nursing Home due to "health and safety concerns" was taken seriously this week by Human Services officials, who have so far relocated 10 out of the facility's 18 residents.
Anita Roberts, commissioner-designee for the Department of Human Services, said her office received a letter last Friday from U.S. Housing and Urban Development demanding that "immediate action" be taken to remove all the patients, whose medical needs have already been assessed by local physicians.
At a Tuesday press conference on St. Thomas, Roberts said that so far, three residents have been moved to Schneider Regional Medical Center, while another seven have been taken to the Queen Louise Home for the Elderly.
Roberts said that HUD had initially given Human Services 24 hours to take action after its letter was sent but also worked with the department on extending the timeframe so that other relocation options could be found for the remaining eight patients.
In its letter, HUD officials said that Sea View:
– is unlicensed;
– has severe cash flow issues that has affected operations;
– has no professional liability coverage;
– has federal taxes and other liens placed on it;
– and has defaulted on its HUD insured mortgage, among other things.
"Significantly, HUD pointed out that there is no plan to resolve the current issues with the default; they either have to sell the property or foreclose," Roberts said. "And in light of the urgent demand from HUD, Human Services is concerned and must continue to act immediately to protect the remaining residents at Sea View."
Trouble for Sea View, the only skilled nursing and rehabilitation facility on St. Thomas, began when the facility received a Centers for Medicare and Medicaid Services report, or "survey," dated Sept. 13, 2013, which concluded there were major deficiencies at the facility and it was therefore in noncompliance with CMS standards of care.
Sea View representatives had said they tried to correct the deficiencies, but follow-up surveys in March 2014, October 2014 and April 2015 all cited shortcomings. In January 2015, CMS sent a letter notifying Sea View that its provider agreement would be terminated effective June 30, 2015.
CMS and Sea View owner, Dr. Alfred Heath, agreed that CMS would back off its claims for penalties and Sea View would relinquish its right to oppose sanctions stemming from the surveys and make way for new ownership. CMS agreed to continue covering the costs for existing Medicare and Medicaid patients at Sea View until Human Services transferred them to another facility or until January 2016, but would not cover any new residents coming to Sea View after June 30, 2015. This last provision caused the population of the facility to drop from 30 to about 15.
CMS informed Sea View that it would continue federal funding only until May 4, for the sole and express purpose of providing adequate time to transfer Sea View's residents to the care of a new provider. CMS began coordinating a plan to move Sea View's residents, via air ambulance, to stateside nursing homes.
But Sea View claimed that CMS breached the terms of the agreement and filed suit, seeking an injunction to prevent CMS from halting payments and transferring patients. It named both CMS and the U.S. Department of Health and Human Services as defendants.
Roberts said Tuesday that CMS's last action was to inform former Human Services Commissioner Vivian Ebbesen-Fludd that it would not be providing further funding, effective July 30, which Roberts said "further exacerbated" conditions at Sea View since the facility couldn't meet its financial obligations.
The final letter from HUD, which forced the government to step in, was dated Sept. 23, and Roberts said that since then, Human Services has been notifying the patients' families about the move, while also trying to find a permanent home for those still at the facility.
Asked Tuesday whether the patients at Schneider Regional Medical Center would remain there indefinitely, Roberts said that Human Services' case workers will continue to follow up on each resident's individual care. Two of the patients moved to Schneider, she added, require chronic care and the hospital is currently "not set up for that."
"Human Services has the statutory responsibility to ensure that the elderly in our community have their basic needs provided for and that their health doesn't deteriorate because of substandard conditions," Roberts said.