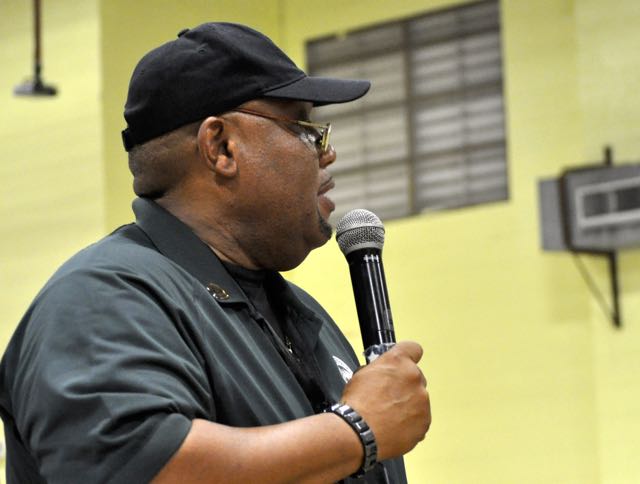 Following multiple home invasions and rapes in the Pillsbury Heights and Estate Nazareth areas of St. Thomas in August and September, police say they have used tips from residents to identify two individuals who have been interrogated and DNA tested.
Officer Roy Chesterfield broke the news to a packed room of East End residents at Ivanna Eudora Kean High School on Wednesday evening during a community meeting hosted by the V.I. Police Department's Crime Prevention Bureau.
Police acknowledged Sep. 10 that they were looking for a potential serial rapist on St. Thomas's East End. Officers said Wednesday there have been two reported armed rapes under similar home invasion circumstances, but a string of break-ins in the area may be related.
"Nobody was talking to us. People were scared," Chesterfield said. "And now with the little information we got from you guys, I will say today that we were able to pick up some individuals and we were able to do some testing on these guys. We are waiting on the result."
Chesterfield said that little information could be divulged about the two individuals who were questioned and tested, but that a positive DNA result in would likely lead to an arrest.
Police officials and officers present at Wednesday's meeting, including Special Assistant to the Commissioner Kenneth Blake, Public Information Officer Glen Dratte and Zone C Watch Commander Sgt. Barrington Thomas, were met by a frustrated and fearful atmosphere inside the Kean auditorium.
Some residents demanded to know more about the physical description that led police to make their interrogations and balked when police were only willing to say that the reported rapist "has brown eyes."
A previous statement to the press specified that police are looking for a black male, between 5' 6" and 5' 9" with a slim build and curly or recently shaved hair.
Police told attendees of the meeting that they have increased patrols of the Pillsbury Heights, Frydenhoj, Nazareth and Smith Bay areas in both marked and unmarked cars in recent weeks, but break-ins with unsettling characteristics have apparently continued.
One Estate Frydenhoj resident at the meeting recounted an unnerving story of returning home Tuesday evening around 8:30 p.m. to find her back door ajar and lights on in her bedroom. After calling police she discovered the contents of her underwear drawer had been emptied on the floor with much of her jewelry, none of which was taken, wrapped in the garments. Her 14-year-old granddaughter's underwear drawer had also been emptied.
Police were able to take fingerprints from the woman's back door. If the culprit is the same as the one responsible for the recent sexual assaults in the area, it means he may be willing to strike at an earlier time of day. Both reported rapes occurred in the early morning hours.
Community members and officers discussed several strategies Wednesday to increase safety, including instituting a buddy system for those walking home at night, installing home sensor lights and organizing a neighborhood watch.
St. Thomas Administrator Merwin Potter, who attended the meeting, was particularly keen on the last option.
"The police can only be as good as the community. You are the community. Organize," Potter said.
In a previous release, the VIPD gave the East End community the following pieces of advice:
– If you have a glass sliding door, place a metal pole or strong stick on the tracks of the door, no matter how much someone jolts or pulls the door, it will not open.
– If you're moving into a new apartment, request for your locks to be changed. Others can have a copy without your knowledge.
– Be aware of what you put on social media. Information can disclose your location to the wrong individuals.
– A great way to discourage intruders is to make them think you're not alone.
– Always have some means of personal self-defense. There are individuals that specialize in the instruction of women's self-defense.
– Always lock your doors when you're home, especially if you're alone.
– Be aware of your environment at all times, especially at night or when alone.
– Always have your keys at hand when entering your car or your residence, especially if you're alone.
– Don't make your home easily accessible for prowlers by leaving chairs, ladders, or any object that can be used as a tool to jump on or hop over into your residence.
Anyone with any information regarding these incidents is encouraged to contact the VIPD at 340-774-2211, the Criminal Investigation Bureau at 340-714-9807, 911, or the anonymous tip service, Crime Stoppers USVI, at 1-800-222-8477.