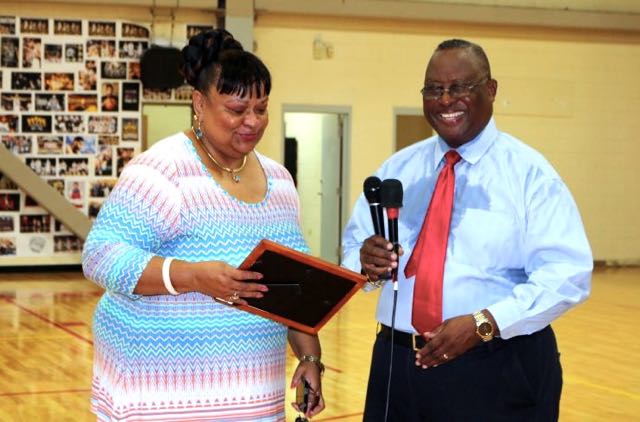 Bertha C. Boschulte Middle School inherited a piece of history this week – and the ghosts of Paradise Jams past – with the installation of a new gym floor that was once installed at the University of the Virgin Islands Sports and Fitness Center.
UVI unveiled its new gym floor right before last year's Paradise Jam basketball tournament and Department of Education officials said at a press conference Wednesday that they soon after pounced on the opportunity to acquire the old one.
Speaking at the official unveiling at the middle school, Education Commissioner Sharon McCollum said that UVI President David Hall immediately said "yes" when asked about transferring over the floor. The funds to get it moved, installed and refurbished were then quickly made available by a private donor, she said.
"This project is a true demonstration of what can happen when the public schools are supported by the private sector and other entities of the government," McCollum said.
The total cost of the project was $17,000, according to BCB Principal Carver Farrow, who said that the school's old gym floor was made of the same PVC piping material as its ceiling.
"We really needed this floor because when we have teams from other areas come to the territory, such as the teams for Paradise Jam, they never used BCB because we didn't have a wooden floor," Farrow said, adding that the old floor was bad "for the ankles, bad for the knees and bad for the students."
He credited McCollum for getting the project started and completed quickly.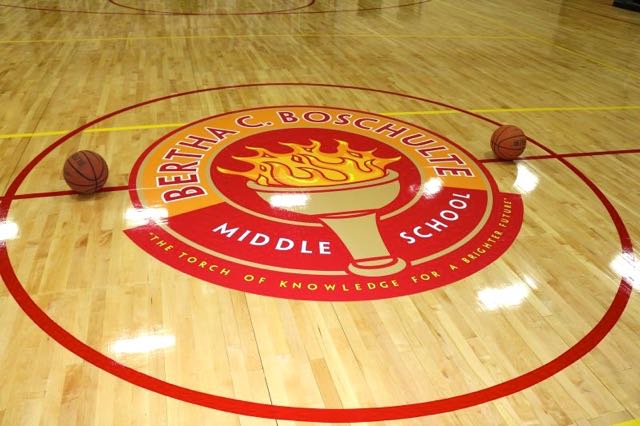 "Our school couldn't have the only gym in the territory without a wooden floor," he said. "And when I told this to the commissioner, she immediately went out to secure funding from private donors and, if it weren't for her, this wouldn't be here today."
Education's territorial athletics director, Peter Seipel, said Wednesday that after the funding was secured, getting the floor down was done in short order.
"From the time that the workmen came and brought it in, it took maybe about two weeks, from the first time they started laying out the sections to the lasts coat of lacquer, to finish," Seipel said. "And we're so excited to be able to celebrate this today. We expect many tournaments and games being played in the gym, and we look forward to many more projects coming around in the months and years to come."